The Byram Difference - Convenience, Affordability and Choice™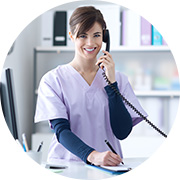 Clinical Resource
Our Ostomy CareLine is staffed by WOC nurses. Call our toll-free number at 1-877-902-9726. ext: 43312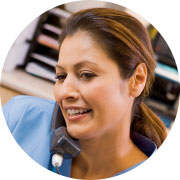 Caring Touch at Home™
Our program provides a wide selection of high-quality products delivered discreetly to the home.
Caring Touch at Home
™
Ostomy Program
Our Caring Touch at Home™ Ostomy Program provides a wide selection of high-quality products delivered to the home. It includes:
Routine re-order reminders so you never run out
Bilingual services
Patient and caregiver education
Dedicated product specialists with
extensive training in reimbursement
Insurance 
We are a Medicare participating provider. We are contracted with over 80% of commercial insurance plans. Should you not have insurance that covers ostomy supplies, we understand the financial burden this places on you. Byram is pleased to offer cash pricing.
Comprehensive Product Line
We offer an extensive inventory of ostomy products from the leading manufacturers including ConvaTec, Coloplast and Hollister. We fill the order as prescribed by your healthcare professional and we will not make a product change without your consent. We offer barrier custom cutting at no charge for two piece systems.
Ostomy Center of Excellence
Our Ostomy Center of Excellence consists of a team of dedicated people that are 100% focused on ostomy care. Their goal is to ensure people with ostomies resume a normal lifestyle. Our ostomy specialists are well trained on the latest ostomy products, stoma management products, insurance reimbursement and coverage issues.
Byram has a proud heritage of providing clinical support to ostomy patients. Our Ostomy CareLine is staffed by WOC nurses. Call our toll-free number at 1-877-902-9726 x43312. The CareLine also offers multi-lingual support, which eliminates language barriers and improves access to care.