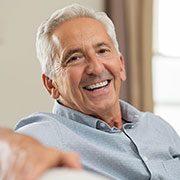 Customer Service & Product Support
The Ostomy Center of Excellence can be reached at: 1-800-308-9445.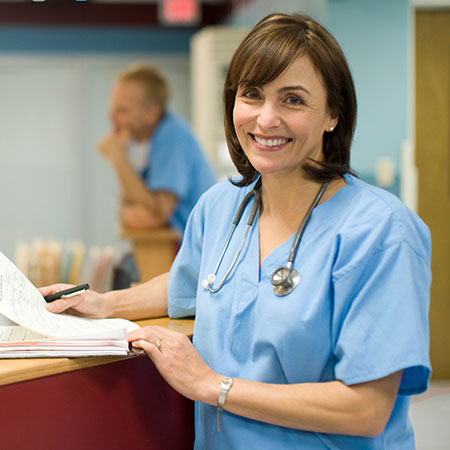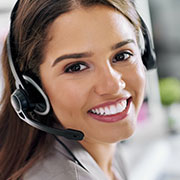 Caring Touch at Home™
Our program provides a wide selection of high-quality products delivered discreetly to the home.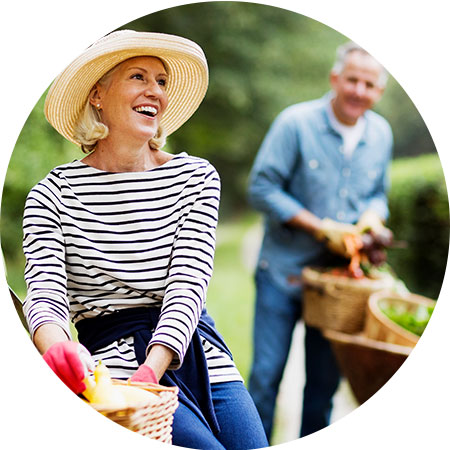 Post-Surgery Diets
During a six to eight week period post-surgery, your doctor may have suggested you avoid foods that are bulky and hard-to-digest. This is done to give your body time to adjust and heal. It is suggested that you only add one food at a time after the six to eight week period so you can easily identify problematic foods. If food disagrees with you, wait a while and try again. Your body needs time to adjust to its new functions and recover from surgery.
Food Blockage
Chew your food thoroughly to help assure that you get the full nutrient value, and so that it is more easily digested in your stomach and small intestine. If a large mass of food, especially high fiber foods, is passed into your intestines, it could become lodged at a kink or narrowing in the intestine and cause a food blockage. If the lodged food does not move forward, it could cause you to become dehydrated as your small intestine pulls water from your body cells into the intestine lumen in an attempt to rid itself of the blockage.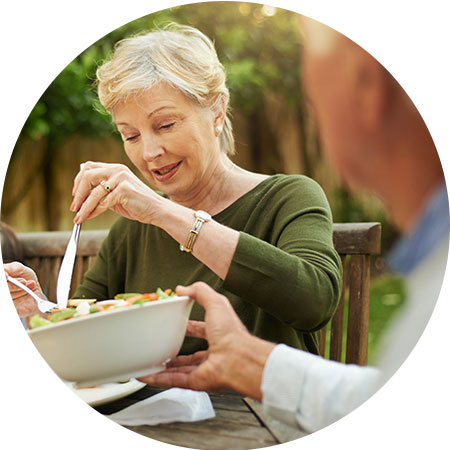 Fluid and Electrolyte Balance
A portion of the water and salt you ingest will be lost in your fecal output because your small intestine will not reabsorb these nutrients. Your small intestine will assume some reabsorption of water and salt with time. Illeostomates are more prone to dehydration especially with vomiting, diarrhea or excessive sweating, as these conditions result in water loss. Along with the water that you lose, you also lose salt and other chemicals, or electrolytes, that keep your body in balance. If you are experiencing with staying hydrated contact your healthcare professional immediately.
Problem Solving: Colostomy and Ileostomy
Are you experiencing problems with excess gas?
Many problems can be solved with simple home remedies or accessory products.
Be careful with foods that are gaseous in nature: beans, cabbage, beer, etc.
If possible, select a pouch with a filter (most closed-end and some drainable models incorporate a filter) or add a filter to your current appliance.
Never puncture the material on the pouch, this destroys the odor-proof film and allows odor to seep out at will. You can also add a gas vent tab to the top of your bag to release air.
Are you experiencing problems with odor?
Everyone using the bathroom creates an odor. However, stool or fecal material that is contained in an appliance for several hours builds up bacteria and may be more offensive when emptying.
There are many good appliance deodorants on the market that can help neutralize odors within the pouch.
Certain foods may cause more odor. You may want to avoid these if you'll be using a bathroom away from home.
To order or inquire about appliance deodorant, please call a Byram Representative at 1-800-308-9445

Do you have difficulty emptying or disposing of your pouch?
Always place some bathroom tissue in toilet prior to emptying pouch contents. This will eliminate back splash.
Place clip on the pouch so the end of the tail spout is facing upward (rather than under), this will allow easier emptying and directing into the toilet.
Clean tail spout inside and out with tissue prior to applying the clip or securing the "Velcro-like" closure.
Do you have difficulty with stool or fecal material not dropping down in pouch?
Leave a small amount of air in pouch when emptying; do not flatten pouch.
Before applying the clip or securing "Velcro-like" closure, pull walls of pouch apart to trap a small bubble of air. This will prevent clothing from pressing down on the appliance.
A lubricating deodorant can ease pouch emptying and help prevent pouch static and sticking.
You may also want to talk to your doctor about using a stool softener to help thin out your stool. This may help stool fall into the bag more easily.
Are you experiencing problems with liquid drainage?
Using a jelling agent to solidify drainage will help contents slide out more easily. A Byram Representative can assist you in choosing a jelling agent to help thicken liquid stool.
Single use packets make jelling agents easy to use with each pouch change. You may want to wear an ostomy belt to help hold the barrier on more securely.
Remember to place toilet paper into the toilet first to decrease splashing.
Problem Solving: Urostomy
Are you experiencing problems with your night drainage tube?
Always keep a small amount of urine in your pouch prior to connecting to night drainage. This will give an immediate flow of urine down the tube and break any air pockets.
Be sure that the tubing is straight down the bed, or with a curl if placed on the side of the bed. Using a leg strap will prevent twisting and kinking of tube.
How can you wash pouches and night bags?
There are a variety of appliance cleaners available for urinary systems. Speak with your Byram Customer Service representative about available options.
In a pinch, white vinegar and water can also be used to rinse out urinary pouches, and a baking soda and water solution is effective in night bags.
Travel Tips
However you travel, be sure to anticipate your needs. Here are some travel tips to keep your journey relaxing.
Create a detailed list of all the supplies you use; catalog numbers, sizes, description, cut size (a copy of your last Byram invoice will do the trick). Pack extra supplies but do not overload.
While traveling, should an emergency arise, simply call us at 1-800-308-9445 for assistance. You can also look in the yellow pages under "Surgical Supplies." Do not panic if you cannot find the model of appliance you are currently using; many brands are similar and can get you through this time.
Always pack your supplies in a separate suitcase or carry-on and never allow this bag to leave your side. When traveling by car, avoid leaving supplies in your trunk, as excessive heat may cause wafers or other items to melt.
Appliance wear-time may shorten in hot climates, so be prepared to change more frequently if needed.
When traveling on planes, remember the restrictions on liquids for carry-on luggage. Put liquid deodorants or adhesives in your checked baggage or put some into less than 3 oz. travel containers.
If you are going to be swimming, you may need to change your barrier more frequently. You may secure your barrier by "window framing" it with waterproof barrier strips or tape.
The Transportation Security Administration offers a helpline to assist travelers with disabilities and medical conditions. TSA Cares can be reached toll free at 1-855-787-2227 prior to traveling with questions about screening policies, procedures and what to expect at the security checkpoint.
The most common complaint of all travelers is a change in bowel habits due to different foods, unfamiliar water, schedule and time changes. Ask your physician for a prescription for diarrhea before leaving home. Drink only bottled water if possible and try new foods one day at a time.
Travel Communication Card
Compliments of the United Ostomy Associations of America, Inc.
This is provided to travelers in order to simplify communication with federal Transportation Security personnel and airline flight attendants, at those times when you wish or need to communicate in a non-verbal way, as is your legal right. This is not a "certificate" and it is not a "pass" to help you avoid screening. Please trim to wallet-size and laminate if desired. The blue color is important, as it is a "flash-card" developed by the TSA so their own officers will recognize it and be guided to treat the traveler with discretion and sensitivity. If laminated in a double-side manner, it can be used 'blue side out' during security screening, and the white side out when communicating non-verbally with airline personnel.
UOAA Ostomy and Continent Diversion Patient Bill of Rights
YOU MATTER! Know what to Expect and Know your Rights Ostomy and Continent Diversion Patient Bill of Rights:
This Patient Bill of Rights is a tool produced by United Ostomy Associations of America for patients to advocate for their own care. To achieve a desirable quality of life, a person needing ostomy or continent diversion surgery must have access to high-quality care in all healthcare settings and should receive appropriate education and support to promote optimal adjustment to surgery. Counseling and Care in the patient bill of rights should be provided by a trained medical professional such as a Certified WOC/OstomyNurse/OMS/OCA.
For more information, please click on the following link: https://www.ostomy.org/bill-of-rights/
Additional Support
You will find additional ostomy support and educational information at the United Ostomy Associations of America (UOAA) website.
People who have had, or will have surgery, their caregivers, family, friends and medical professionals are invited to attend and benefit from lifelong learning and emotional support. Use this link to find a UOAA Affiliated Support Group (ASG) in your area; then, contact the group leader for exact meeting locations/times and more information. Please note the four closest support groups in your search area will appear, therefore using your zip code is recommended to narrow the search.
Disclaimer: The recommendations and information above should not be considered a substitute for personal medical advice or diagnosis. Before making any changes, consult your health care professional.
Explore our Ostomy Product Catalog
Along with our product offering, our catalog offers valuable information about insurance, education and more.
Ostomy Catalog