January 30,2023 |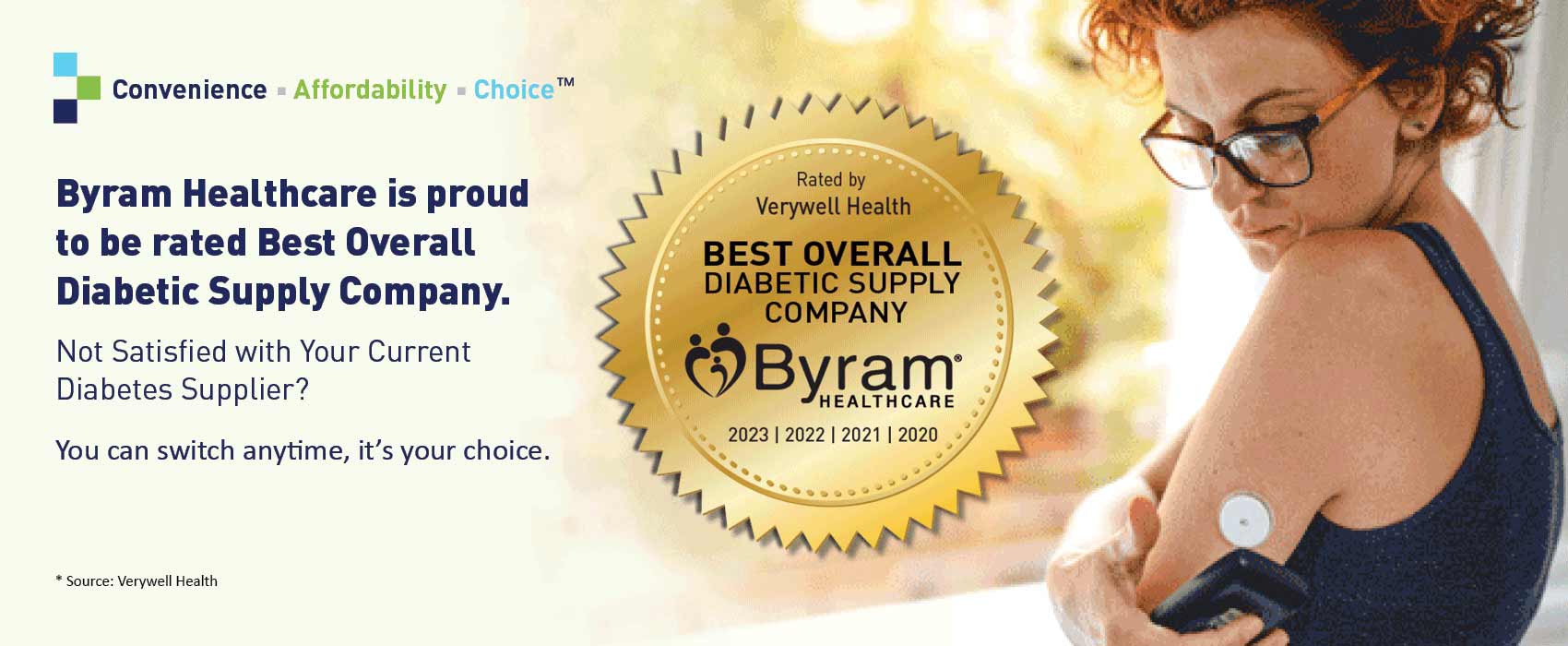 Every year, the experts at Verywell Health perform thorough research, talk to experts, and seek advice from people living with diabetes to determine which diabetes supply companies go above and beyond customer expectations. The researchers interview people living with diabetes as well as certified diabetes care and education specialists, nurses, doctors, and dietitians regarding their views on who the most reliable, courteous, trustworthy, on-the-cutting edge of technology, and knowledgeable companies are. While the type of insurance that you carry will impact which company is best for you, they have compiled a list of the best diabetes supply companies of 2023. 
Byram Healthcare is proud to announce that not only have we made the list; we've actually been rated the best overall diabetes supply company of 2023 for the fourth year in a row. Maintaining our title throughout 2020, 2021, 2022 and into 2023 has been an honor and we will continue to strive for this excellence. Our company stood out due to our comprehensive product availability, clinical support services, and money saving billing opportunities available for those living with diabetes. We're extremely humbled to learn that we've positively impacted the lives of so many people living with diabetes and will continue to work to ensure that our services are available to everyone who needs them.
About Diabetes
Diabetes affects over 34 million people in the United States and more men, women, and children are diagnosed each year. It's one of the most common chronic conditions that affects our society and requires ongoing care. If you're living with diabetes, you understand how difficult management can be. From planning your meals to measuring your blood glucose levels, things can get a little overwhelming. To help people manage their diabetes and avoid going into diabetes distress, companies have emerged to make life easier. Diabetes supply companies offer convenient services that deliver essential diabetes care products to your front door in a timely manner. While your coverage of these supplies depends on your insurance company, many people are eligible to receive essential diabetes supplies at little to no cost. Since it can be difficult to determine which diabetes supply companies are the best, Verywell Health decided to help people with the decision-making process.
About Byram Healthcare Insurance Covered Diabetes Supplies
Byram Healthcare offers a comprehensive product line of diabetes supplies ranging from diabetes test strips, lancing devices, lancets, control solution, batteries, blood glucose meters, insulin pump supplies, continuous glucose monitor supplies, prescription medication, insulin, pen needles, and more. Since we're contracted with hundreds of managed care plans, including Medicare Advantage and Managed Medicaid, our products are widely available to patients covered through a range of insurance plans. In fact, we're a leading national provider with access to 80% of covered individuals in the United States. We also offer flexible billing under your insurance policy pharmacy or medical benefit.
If you're in need of extra support, you can utilize our clinical and educational resources to help you with frequently asked questions or further information on diabetes care and management. Our Diabetes Careline and Clinical Support services are available to our customers between doctor visits and are free of charge. If you need comprehensive diabetes care support, consider signing up for our Caring Touch at Home™ Program. To learn more about our product catalog or to speak with someone from our Diabetes Center of Excellence, contact us today at 1-877-90-BYRAM.