The Byram Difference - Convenience, Affordability and Choice™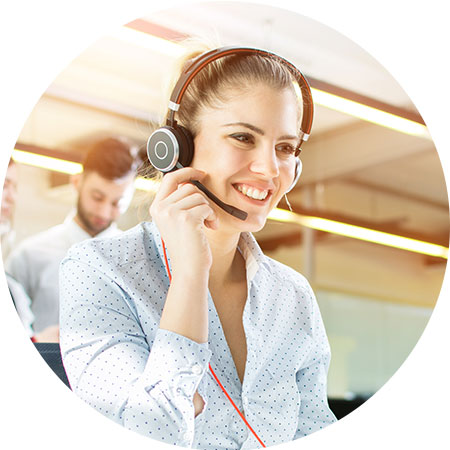 Contact Us
The specialized team within our Home Health Customer Service Center of Excellence provides flexible ordering options and can be reached at
1-800-248-4546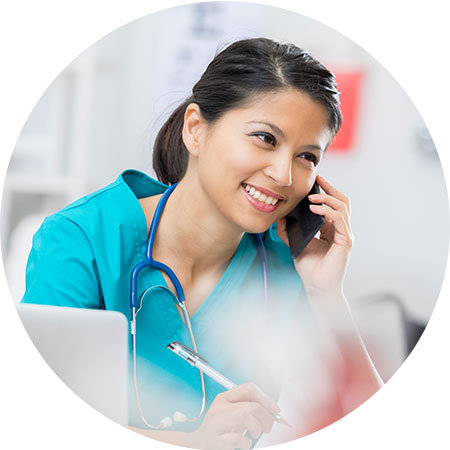 Refer a Patient
Our Wound, Ostomy, Urology and Incontinence Care Careline is staffed by WOCN nurses.
Refer a Patient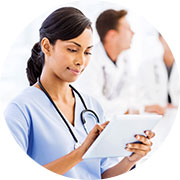 Order Form
Download our Digital Form, fill it out, and fax it to our Center of Excellence.


Download Order Form
Extending Care from Hospital to Home with Byram's Home Health Program
A Partner of Choice for Your Patients at Home
As experts in post-acute medical supply management, Byram Healthcare offers the home health agency a better clinical and financial experience for Medicare and non-Medicare home health and hospice patients. We offer easy access to critical medical supplies for patients receiving care in the home.
Continuity throughout post-acute care settings
Reduce supply leakage at hospital discharge
Access to Chronic Care at Home™ Programs
Byram Healthcare and Apria are a part of the Owens & Minor Patient Direct Division

Byram Healthcare is the leading provider of medical supplies for patients with chronic diseases nationwide. We have a comprehensive product line which includes all major brands in Diabetes, Ostomy, Wound Care, Urology, Incontinence, and Enteral products. Apria Healthcare LLC (Apria) provides home respiratory services and medical equipment including oxygen therapy, noninvasive ventilation, sleep apnea devices, negative pressure wound therapy, and home medical equipment.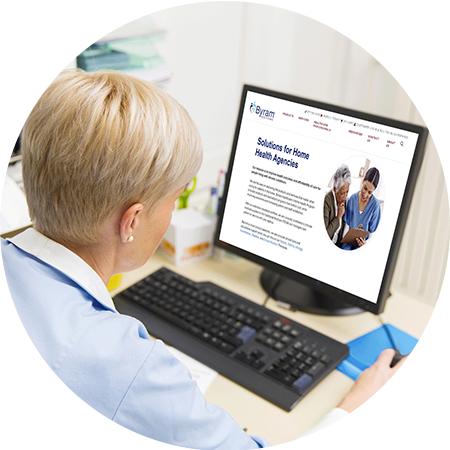 Home Health Center of Excellence
A Dedicated Customer Service Team for Home Health Agencies
One specialized team for your agency and clinicians
Supply management expertise for Medicare PDGM and other bundled payors
Insurance Billing Expertise
Seamless Transitions of Care
Various ordering options, including E-ordering solutions & EMR Integration Options
Regardless of how Byram obtains an order from a home health agency, our dedicated Home Health Center of Excellence team offers exceptional service and partnership
Medical Supply Management for Your Agency and Patients Under a Medicare PDGM Episode
The True Cost of Medical Supplies
By prioritizing clinician and patient satisfaction and outcomes, Byram's Home Health Program incorporates key components that lead to a streamlined and efficient service, ultimately reducing the indirect cost of a medical supply program.
Byram's Impact on Indirect Hidden Costs
5 Ways to Improve Medical Supply Management, Reduce Costs, and Improve Outcomes
Learn how Byram's Home Health Program can benefit your agency clinically, financially, and operationally, by reading this publication by the Remington Report.
Download the Report!
Reduce excessive use of closet stock
Eliminate agency paying for supplies billable to insurance
Avoid wasted skilled nursing visit
Reduction in over utilization of supplies
Lower patient co-pays as an in-network provider
Prevent re-hospitalization
No charge backs on third party orders
Insurance Capabilities that Support Home Health Patients
Your agency could stop paying for medical supplies that are billable to patients' insurance. With our direct insurance contracts, Byram provides in-network access to 85% of U.S. covered lives. We remove the complexities associated with medical supply coverage for your non-Medicare patients and improve the agency's bottom line.
The check marks below indicate medical supplies that may be billed separately by Byram to the patients insurance while they are on-service with a home health agency.*

*Coverage is determined by the plan and Byram follows the plan guidelines for dispensing supplies.
Caring Touch at Home™ Ostomy Transitions Program
Support for patients after discharge is reassuring, and provides financial savings to the agency as Byram bills their insurance, including Medicare B, upon discharge
Seamless transition upon discharge
Patient Engagement
Clinical support and education
Access to a breadth of ostomy products
Patient insurance billing experts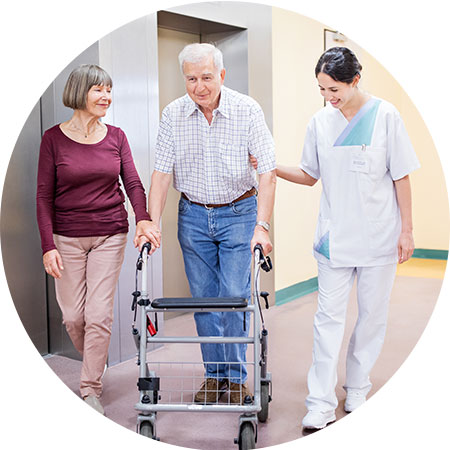 Learn Why Byram Healthcare is the Nationally Preferred Provider for Home Health Agencies
At Byram Our Priority is to Ensure all Your Patients' Supply Needs Are Met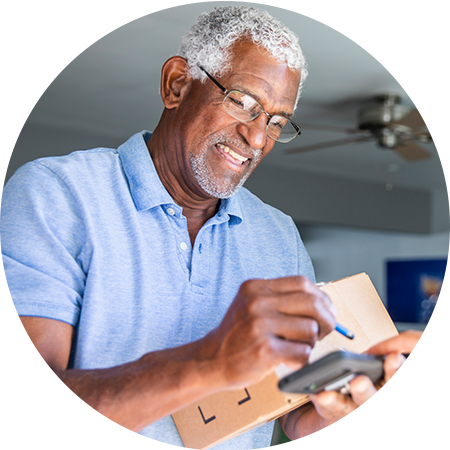 At Byram our priority is to ensure all your patients' supply needs are met
Byram offers a series of continuing education programs that are tailored to the skills set of a home health agency nurse.