July 12,2022 |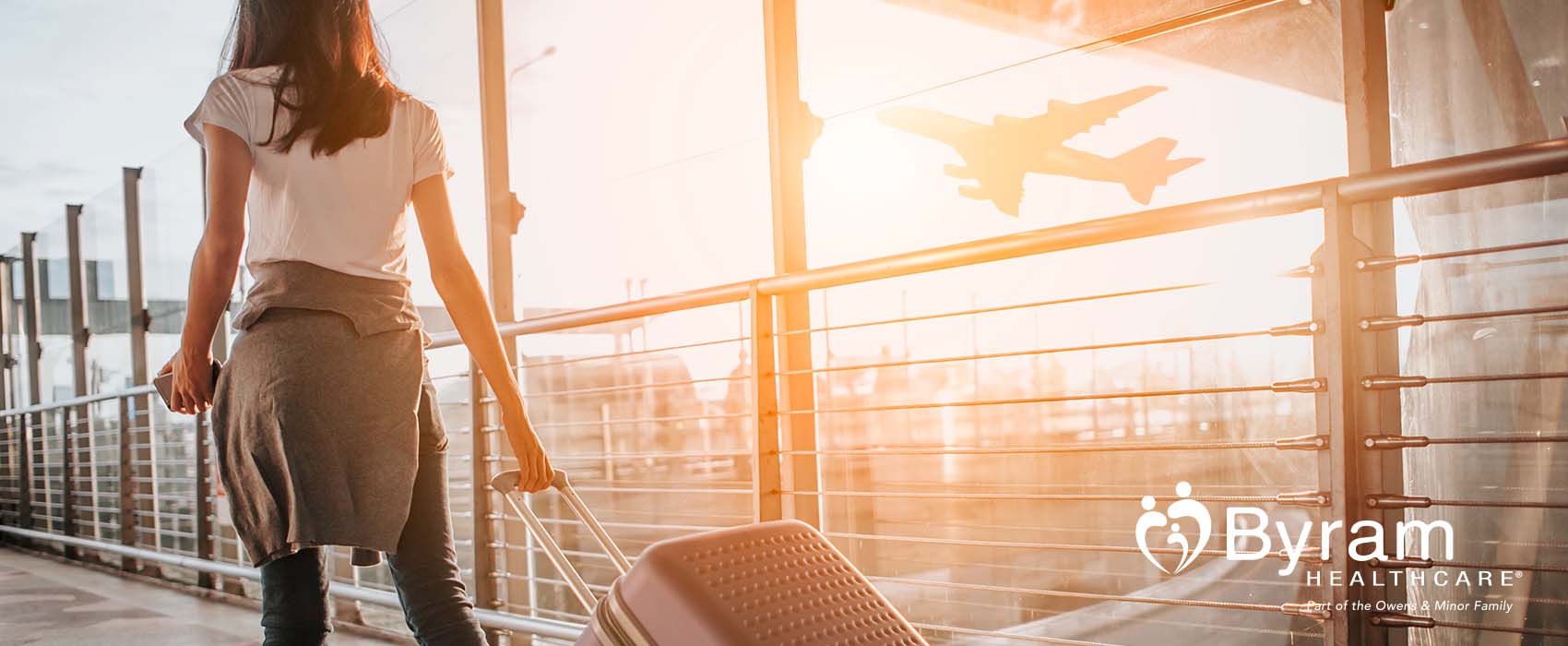 An ostomy is a type of surgery that's performed to allow bodily waste to bypass diseased or damaged areas of the intestine. After the surgery, waste exits through an artificial opening in the abdomen called a stoma. There are several different types of ostomy surgeries performed, which are classified based on which part of the intestinal tract is affected. While this might seem scary, ostomies are considered lifesaving procedures and require minimal changes to your daily life. However, since they do require the use of a pouching system, using the bathroom while traveling may seem a bit overwhelming. To help, here's more information on what to know about getting a UOAA Travel Communication Card.
Different Types of Ostomies
There are three different types of ostomy surgeries that are performed: colostomies, ileostomies, and urostomies. A colostomy is performed when one or more parts of the large intestine aren't working properly. In a loop colostomy, the large intestine is redirected and attached to the stoma. This can be either temporary or permanent. In an end colostomy, the large intestine is brought out through a stoma in the abdominal wall. These are permanent and will require a colostomy bag and ongoing care.
An ileostomy is performed on individuals who are experiencing problems with their colon. Most often, this is done on those suffering from Crohn's disease, ulcerative colitis, or bowel cancer. They can be either temporary or permanent, depending on your condition and severity of damage. The location of the issue will determine whether you receive an end ileostomy, a loop ileostomy, or an ileo-anal pouch (J pouch).
Finally, a urostomy is performed when there are problems with your bladder. It redirects urine away from diseased or defective organs and out through the stoma opening in the abdominal wall. Again, urostomies can be temporary or permanent, but require a pouching system for their duration. Your doctor will discuss your specific circumstances with you to better understand which ostomy is best for your condition. If you have any questions, don't hesitate to ask.
Understanding the Ostomy and Continent Diversion Patient Bill of Rights
The Ostomy and Continent Diversion Patient Bill of Rights is an advocacy tool that was created by the United Ostomy Associations of America, Inc (UOAA). UOAA is a national, 501(c)(3) nonprofit organization that supports, empowers, and advocates for people who have had or will have ostomy or continent diversion surgery. The purpose of the Patient Bill of Rights (PBOR) is to help patients self-advocate for their own care and improve outcomes. This is meant to support individuals who are either permanently or temporarily living with a continent diversion by catering to their needs while out in the public. It's based on recommendations for best practice ostomy care made by medical professionals within the field. Individuals who need to undergo an ostomy must have quality access to ostomy care and materials. The PBOR standards of care can be found in more detail here.
What is a UOAA Travel Communication Card?
Undergoing an ostomy surgery means that you'll no longer have voluntary control of your waste expulsion. Therefore, you'll need to use a pouching system to collect waste throughout the day. While this may seem overwhelming, there are several great products available to help aid in discretion and comfort. However, changing your pouch in public or other difficult situations requires practice and privacy. This can pose unique challenges when flying. Luckily, there are plenty of tips to help you seamlessly travel with an ostomy. Here, we want to focus on the pre-departure security requirements.
Every individual who flies on a commercial airline needs to undergo a security screening before boarding the plane. This is performed in a very public setting, which can make some ostomates uncomfortable. To help you communicate with TSA agents, UOAA developed a Travel Communication Card. This card is provided to travelers to help simplify the communication with federal Transportation Security personnel and airline flight attendants. It allows ostomates to communicate non-verbally, in accordance with your legal rights.
The UOAA Travel Communication Card is not, however, a way to avoid screenings at the airport. It is simply used to help you travel with discretion and sensitivity. One side of the card provides text for TSA agents to read and should be used during screening. It should be shown before being patted-down or entering a full-body scanner. The other side has various information for ostomates to use as a resource. TSA officers should never ask you to show your pouch, but you may be asked to rub over your pouch so it can be tested to rule out explosive residue. If you have any questions, concerns, or complaints, call the appropriate number on the UOAA Travel Communication Card.
Restroom Communication Card
In most situations, if you need to use a public restroom with an ostomy, you can simply find one nearby and begin the process of changing your pouch. However, if you're in an area without accessible public restrooms and an emergency arises, it's important to have the resources available to handle it. The UOAA Restroom Card helps communicate that you need restroom access immediately to empty your pouch and that it's crucial for both the mental wellbeing of the cardholder and general public sanitation of the area they're in. Restroom communication cards can also be obtained if you have any type of inflammatory bowel disease or associated condition.
If you're struggling with your new ostomy, you're not alone. To help, there are several ostomy support groups available that allow you to connect with others and gain a better understanding of life with an ostomy. Check the list of support groups affiliated with The United Ostomy Associations of America for locations around you.
How to Obtain a UOAA Travel Communication Card
If you or a loved one are currently living with any type of ostomy, you're eligible to obtain a UOAA Travel Communication Card. All you need to do is download the form, fill out the appropriate information, print the card, and laminate it for safe keeping. You do not need to obtain the card from a licensed physician or medical professional. Make sure the card is printed in color and kept in a safe place. You can download the PDF here.
Preparing to Travel with an Ostomy
To make sure that your trip goes smoothly, take the time to prepare and pack accordingly. While it can be stressful to think about traveling with an ostomy, there are plenty of public restrooms for you to use along the way. With a few precautions and preparations, you'll be able to focus on enjoying your trip and creating long-lasting memories with your loved ones.
The first step in preparing to travel with an ostomy is to pack the right amount of ostomy supplies. This should include everything you'll need for the duration of your trip. When you make your list, consider what you use throughout a typical day at home and double it. This will give you a strong peace of mind that you won't need to find supplies while on the go. However, ostomy supplies are used by people around the world, so it's unlikely that you'll find yourself in a situation without any access to additional equipment. Always pack a sufficient amount of your ostomy supplies in your carry on in case your luggage is delayed or lost. This will also give you everything you need to change your pouch while in transit. If you'll be staying in the country, ask your doctor about recommendations or references for medical professional in your destination city to have on hand in case of an emergency.
If you're nervous about going through airport security, you can contact TSA Cares ahead of time, which is a support line for passengers with medical conditions, special needs, or disabilities. This will help you get a better understanding of what to expect when you go through security. You'll also need to adhere to the 3-1-1 liquid rule for your carry on, so pack your ostomy supplies in TSA-friendly containers.
When preparing for your trip, make sure you have an adequate amount of high-quality ostomy supplies from Byram Healthcare. Byram Healthcare is committed to doing our part to improve the lives of those living with ostomies through convenient product delivery and a diverse ostomy product catalog. We're here to help you navigate life with an ostomy and get the most out of your travels.