October 28,2021 |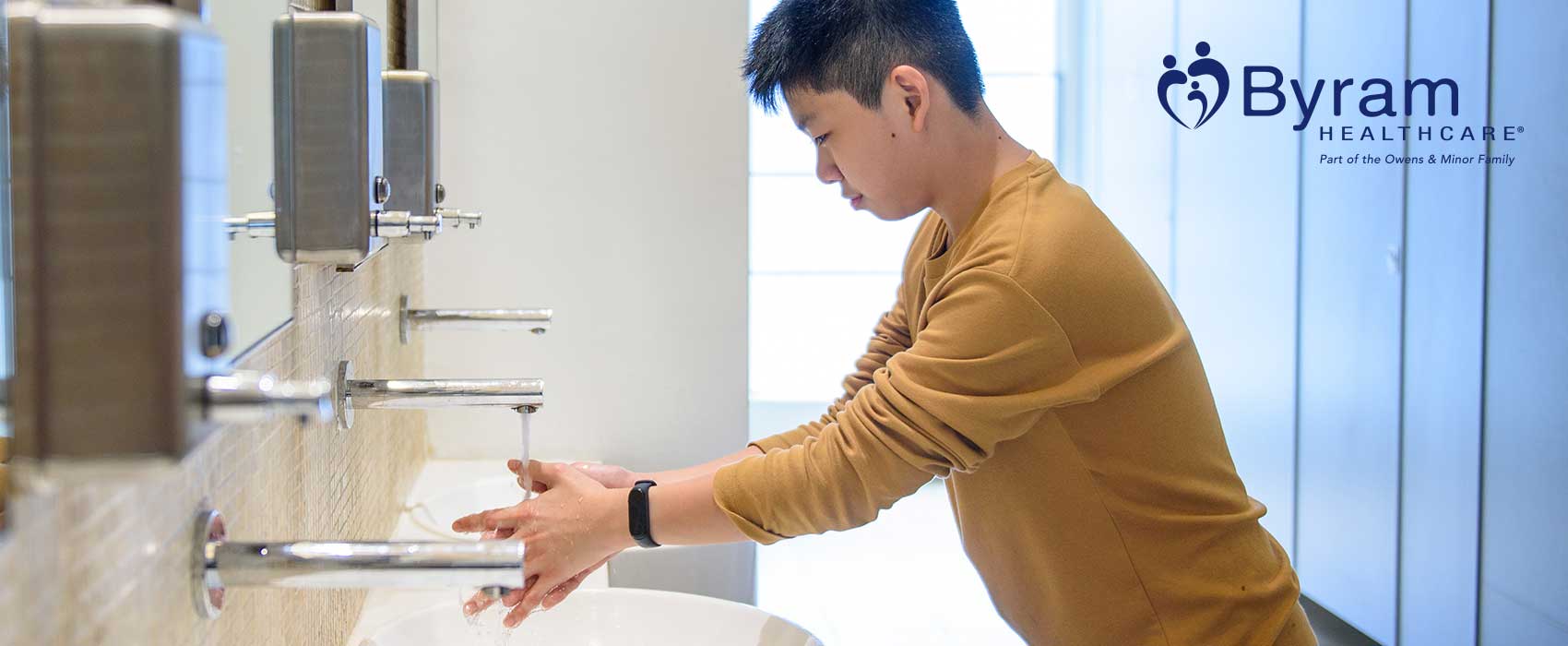 Living with an ostomy means that you'll need to learn how to change your pouching system, regardless of where you are. During the first few weeks of recovery following your surgery, your doctor or an ostomy nurse will work with you to ensure that you understand how to change your pouch and are comfortable doing so. With some practice, you'll get the hang of the process in no time. Most new ostomates plan ahead so that they can change their ostomy pouch at home while they're still getting comfortable with the process. However, it's unrealistic to only use the restroom while you're in the comfort of your own home. Whether you're running errands, at work, or out socializing with friends, you should be comfortable changing your ostomy pouch. To make sure that you feel confident, it's important to learn how to use public restrooms with an ostomy.
Finding the Right Pouching System
An ostomy is a hole made by a surgeon that allows stool and/or urine to leave your body through your abdomen, out of a stoma, and into a pouching system. To find the right pouching system for your lifestyle, you'll first need to properly size your stoma. This ensures that your pouching system fits well and won't leak throughout the day. Next, work with your doctor to choose an ostomy bag. There are several different types of pouching systems available. Most of the time the choice comes down to the type of ostomy you have and your overall lifestyle habits. There are different features on different ostomy pouching systems, so finding the right one will ensure that you're comfortable and protected throughout the day. Your doctor will work with you when choosing your ostomy bag, so don't be afraid to ask questions and be honest with how it feels. You can always change your pouching system later on.
Tips for Changing Your Ostomy Pouch in a Public Restroom
There's no reason to be embarrassed about changing your ostomy bag in a public setting, but many people prefer doing so discreetly. To help you overcome some of the challenges of using a public restroom with an ostomy, make sure that you're prepared and have everything you need readily accessible.
Gather the Necessary Ostomy Supplies
The very first step to using public restrooms with an ostomy starts at home. You'll need to gather all of your supplies and lay them out. This allows you to check, and double check, that you have everything you need before leaving your home. Make sure that you include your preferred ostomy pouch system and any accessories that you normally use when changing your pouch at home. This may include lubricating gel/deodorant, skin prep wipes, peristomal cleaning supplies, accessories to help minimize or avoid ostomy odor, and barrier rings or seals.
For extra security, always prepare more than you need. If you only plan on being out for a short time and anticipate that you'll need to change your pouch once, bring enough supplies for two changes. This will allow you to feel comfortable and confident just in case you run out and need additional supplies. The same should be said if you plan to be out for longer periods of time. As a rule of thumb, gather enough supplies for an extra change or two before heading out.
Pack Your Supplies
After double checking your ostomy supplies, it's time to pack them into an easy to carry bag or container. There are plenty of bags designed specifically for ostomates, but you can just as easily put them in anything you have that's large enough to carry them. Some people enjoy using bags with different compartments so they can organize their supplies while others prefer simply storing one bag of ostomy supplies in their everyday purse or briefcase. You can experiment with different options; the important thing is finding something that you're comfortable with. To make things easier, avoid packing an entire box worth of products and only take what you need—i.e., a few prep wipes for your skin, travel sizes of products and deodorant, etc.
Changing a Drainable Ostomy Pouch
Drainable ostomy pouches are pouches that you can simply open and drain directly into the toilet. Some people find these to be easier when they're out in public as you don't have to completely change out the system. How you drain the pouch typically depends on your preferences—some people sit down and empty it while others lean over the toilet to drain it. Practice doing this at home first to find the way that makes you the most comfortable. Once you've drained the pouch, simply wipe the opening with toilet paper or a baby wipe and re-close the bag. Triple check to make sure that it's securely closed, and you're all done.
Changing a Closed End Ostomy Pouch
While draining your bag seems like it'd be the easiest option, many people prefer using a closed end ostomy pouch in public restrooms. Closed end ostomy pouches are completely removed and discarded when they're about 75% full.
If using a two-piece ostomy pouch, the wafer stays connected to your skin while only the pouch is replaced. This allows you to simply throw away the used pouch and attach a clean one to the pre-existing wafer. If using a one-piece ostomy pouch, the bag and the wafer are connected. You'll need to remove the entire unit (pouch and wafer) and replace it, making sure that the wafer is securely attached to your peristomal skin before leaving the restroom.
Regardless of if you're using a one-piece or a two-piece pouch, you'll need to put your used ostomy bag into something you can discard it in. Many people find that large Ziplocs bags are a great option to avoid spillage.
Changing an Entire Ostomy System
Changing an entire ostomy system is also possible to do in a public bathroom, you just need to be prepared. This will include changing out your wafer and flange in addition to your ostomy pouch, so just take it slow and do one thing at a time. The first step will be making sure that all of your supplies are ready and that your new pouch is easily accessible and ready to use. If you're using cut-to-fit wafers, do this at home so you won't have to take on an extra step in the bathroom. Remove and dispose of your old ostomy bag, clean up your peristomal skin, and apply any skin prep around your stoma. Once all of the products have dried, put your new wafer on and make sure that the adhesive is securely fastened to your skin. Next, simply attach your new pouch to the wafer and you're ready to go.
When changing your ostomy in public restrooms, always wash your hands both before and after the process. Bring along hand sanitizer to use after closing the stall door. Remember, every public bathroom is different, but with the proper preparation and materials, you'll be able to navigate this process with ease. Whenever possible, use a "family" restroom or a handicap stall to give yourself more room. Make sure that you have a clean area to rest your bag and supplies or use a backpack or ostomy pocket.
If you're going to be flying somewhere, consider getting a Travel Communication Card, compliments of The United Ostomy Associations of America, Inc. This allows you to communicate with TSA agents without problems while simplifying the security screening process. This also includes a Restroom Communication Card, which lets the flight attendants know that you need to empty your pouch when the seatbelt sign is on. However, it's up to the discretion of the flight attendants and crew to determine whether it's safe or not. To make your journey easier, discuss this with flight attendants as you board.
While all of this may seem overwhelming at first, you will get used to it. In the meantime, if you have any ostomy questions, there are plenty of great resources to help get you answers. For those that are struggling with their new surgery and lifestyle, joining an ostomy support group can help you connect with other ostomates, get comfortable with your pouching system, and overcome mental struggles you may be facing. To join a local support group based on your zip code, head over to UOAA today.
For more information, Byram Healthcare has plenty of options for ostomy education and support. We offer discreet delivery directly to your doorstep for a range of ostomy supplies including pouching systems, skin barriers, and helpful products to improve the quality of life for ostomates around the country. To get started, check out our ostomy product selection guide today.