December 07,2022 |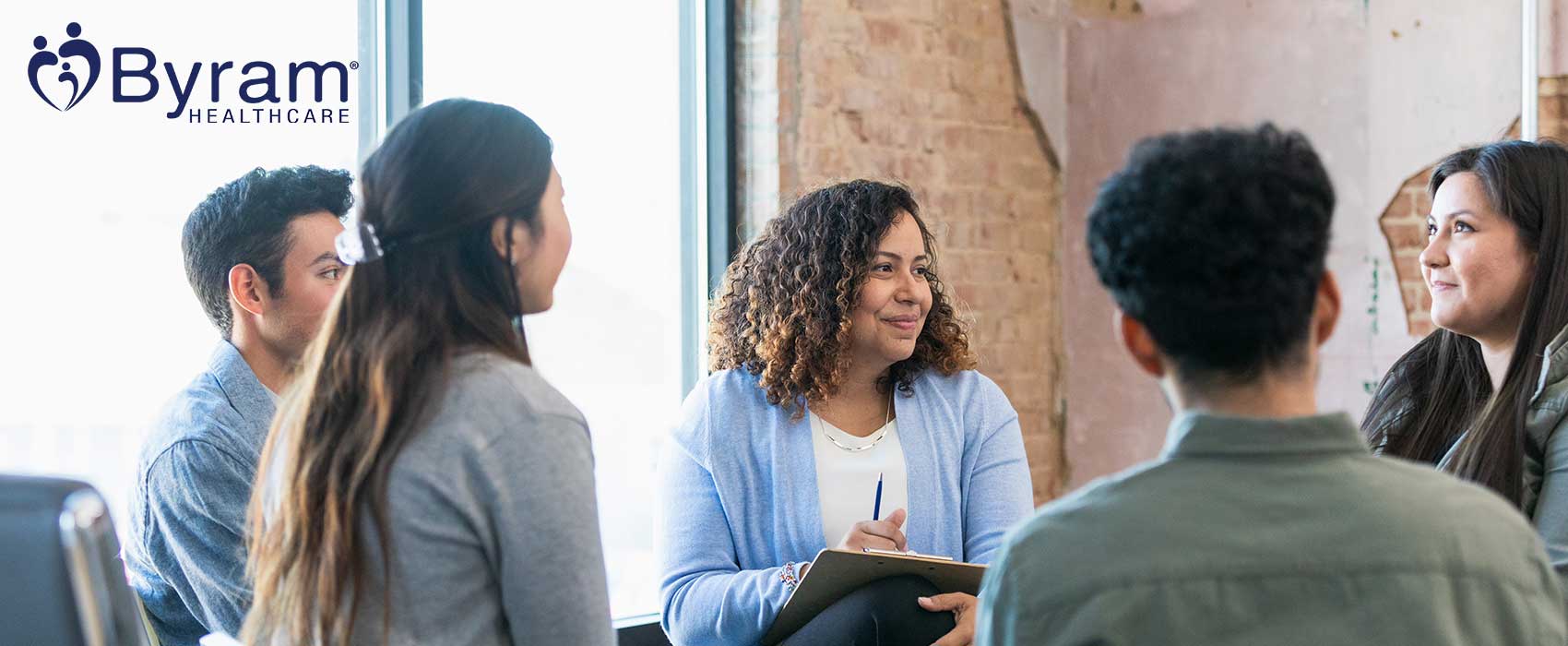 Living with diabetes can have a lasting impact on your wellbeing. Not only do you need to be careful about your physical health, but the increasing demands and meticulous planning can have a serious toll on your mental health. Although having a caring, supportive family is a great way to help offset the weight of daily management, sometimes you may feel like they just don't understand. To help you connect with other, like-minded individuals, consider some of the benefits of joining a diabetes support group. 
5 Benefits of Joining a Diabetes Support Group
Being able to share your experiences in an unbiased atmosphere is one of the most freeing feelings in the world. It allows you to be open and honest with yourself, and with others, which can pave the way for future growth. The feeling of being connected to something bigger than yourself is also extremely important, especially when you're living with a chronic condition like diabetes. For more, consider the following benefits of support groups when living with diabetes.
1. Connect with Others
The simple act of human connection can do wonders on our mental health. Although you may try and connect with friends or family members on a daily basis, if they're not living with diabetes as well it can be frustrating. Sometimes, talking about what you're struggling with doesn't seem like such a big deal to them. Other times, it can feel like they're not understanding what you're going through at all. When you become part of a diabetes support group, you'll be able to talk freely with people who understand exactly how you're feeling.
2. Ease the Burden of Diabetes
One of the biggest benefits of joining a diabetes support group is that you can ease the burden of living with this condition. By sharing your struggles and listening to how others are going through the same thing, you feel less like you're carrying the world on your shoulders. Regardless of whether the support group meets in person or online, the simple act of being able to be open and honest without fear of judgement or retribution can do wonders for your mental health and overall outlook on life.
3. Make Lasting Friendships
When you find an in-person diabetes support group in your area, it gives you an opportunity to make friends outside of the group. You don't necessarily have to extend your relationships with people from the support group into your daily life, but you never know who you're going to meet. It may turn out that you find your new best friend or at the very least someone who you can spend time with during the week or weekends. As an adult, this is a great way to expand your social circle and gives you an added layer of diabetes support when you're not actively at a group meeting.
4. Build Healthy Habits Together
Even if you don't become best friends with everyone in your diabetes support group, being an active participant can increase your chances of building healthier habits. You may find someone who lives in the neighborhood and is looking for a new morning walking buddy. Or you may meet someone who has been wanting to check out a diabetes-friendly cooking class, but has no partner to attend with. The depth of relationships varies between every individual, but living with diabetes gives you something in common. This connection can encourage new habits that help with your long-term diabetes management and overall health.
5. Share Struggles Together
The value of support is unprecedented. Not only can you discuss your struggles without feeling like you're overreacting, but you'll also gain personalized insight about diabetes management, long-term outlook, managing complications, and much more. When you're in a community like this, it allows you to finally feel understood, which can be extremely empowering to individuals living with diabetes. This can further lead to healthier lifestyle habits, a stronger dedication to diabetes management, and an increased quality of life. Sharing struggles with like-minded individuals can provide a degree of relief while acting like a beacon of hope.
How to Find a Diabetes Support Group
The idea of having a support group is one thing. Finding one that you resonate with is another. The first step to determine is whether you'll want to meet with an in-person group, join an online community, or try a hybrid model. Some people prefer face-to-face meetings while others enjoy the anonymity that the internet brings. It's really up to you. As long as you're actively involved, both can have tremendous benefits.
One thing to consider, however, is that joining an in-person group allows you to meet people in your proximity who are also living with diabetes. This can be a great way to form friendships that are centered around healthy habits, which gives you an additional layer of accountability. It can also help you ward off feelings of diabetes distress, or get help in situations that may be considered an emergency. You may meet someone who you can take a class at the community center with, go on daily walks with, or get together for healthy meals on a regular basis.
Either way, there are plenty of different avenues available that can help you find the right support group for your needs. Some of the best methods include:
Asking Your Doctor
Trying to search for the right group online can quickly become overwhelming. There are thousands of different options available, so if you'd prefer to have a smaller pool of options, ask your doctor for recommendations. Your doctor or healthcare team are great resources for diabetes support and management, so it doesn't hurt to ask.
Looking on Social Media
Social media can also be a great place to connect with other people living with diabetes. You can search diabetes-related hashtags like #livingwithdiabetes, #type2diabetes, or #diabetescommunity and see what comes up. Although there are likely to be thousands of results—many of which may not be related—it's a good way to find local groups or join in on larger conversations.
Downloading Apps
There's an app for everything, including diabetes support groups. Some of the most popular ones include Carenity, T2D Healthline, and Diabetes Forum. You simply download one to your smart phone and access it whenever you want. This offers convenient diabetes support on the go.
Checking Diabetes Organizations
Another great resource for finding a support group is nonprofit or government organizations aimed at providing educational resources for individuals living with diabetes. The American Diabetes Association (ADA) has an online support community that acts as a great resource, but there are also options on the CDC website, the Association of Diabetes Care and Education Specialists (ADCES) website, and the National Institution of Diabetes and Digestive and Kidney Diseases (NIDDK).
Going on Diabetes Forums
Alternatively, you can check on diabetes forums. While they're not necessarily a support group, per se, forums are a place to ask questions, get tips, and learn about new research. They can be extremely beneficial to individuals living with diabetes and may even lead to some pretty meaningful friendships over time. Some options for reputable diabetes forums include Diabetes Daily Forum, TuDiabetes, and Smart Patients.
Starting Your Own
If you're still not able to find a good diabetes support group that you feel comfortable with, start your own. Chances are that you know one or two other people living with diabetes, or that knows someone living with diabetes. All it takes is a couple of people and then the group can grow. Even if you only meet every month or so, it's a great way to connect with other individuals and work through your struggles together.
Living with diabetes can be overwhelming at times, but joining a support group can help you get the encouragement you need from individuals who understand what you're going through. Although keeping your family involved in the process is important, a diabetes support group can help you connect with others in the community and give you hope, regardless of your situation. In the meantime, it's important to make sure you're doing everything you can to manage your diabetes effectively and live a positive lifestyle. To help you achieve that, Byram Healthcare carries a range of continuous blood glucose monitors. We also offer diabetes support and educational materials to give you everything you need for comprehensive care.