August 09,2022 |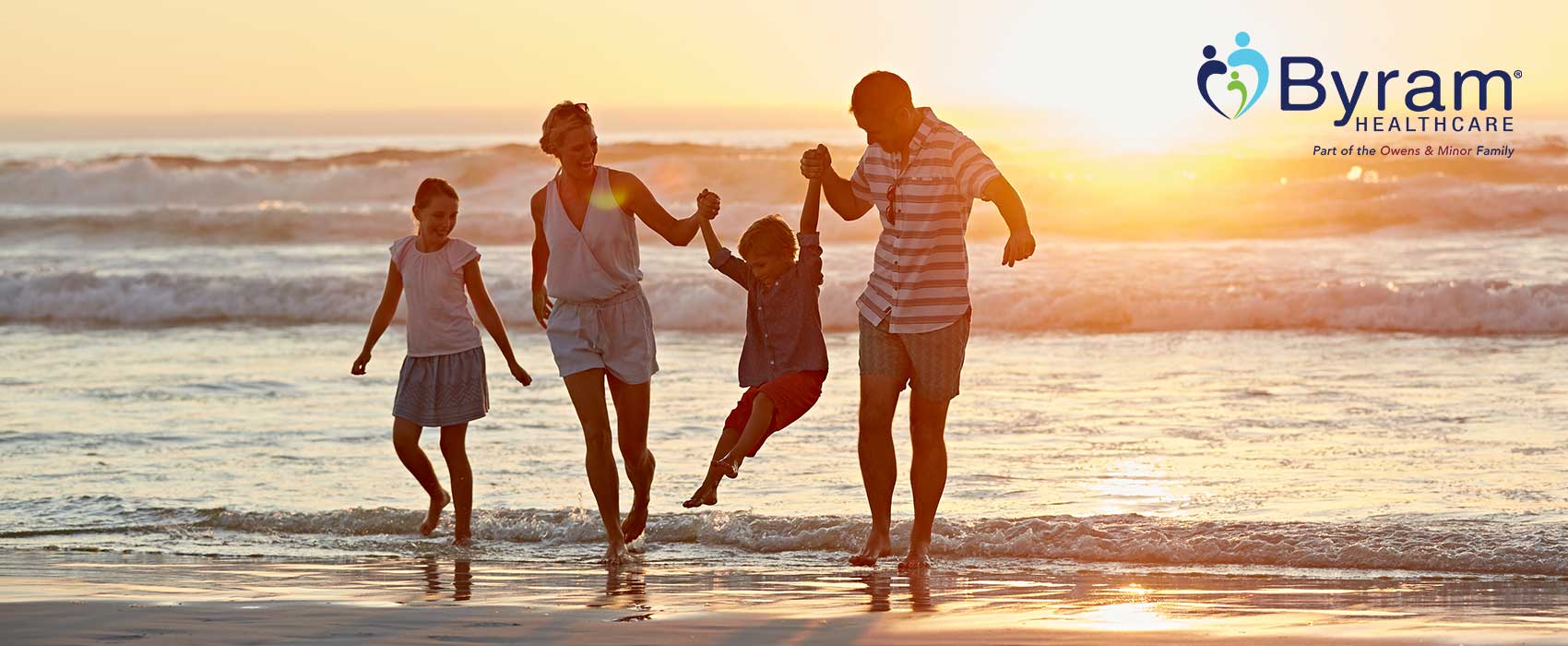 Summer is one of the most highly anticipated seasons of the year. With plenty of holidays to celebrate, warm weather, and opportunities for vacations, summer is a great time to take a break and spend quality time with your friends and family. While living with an ostomy can present you with a few extra challenges, it doesn't mean that you can't enjoy your summer and all of the activities that come with it. To help, consider the following 10 tips for enjoying your summer with an ostomy.
Change Your Pouching System Often

One of the best ways to make sure that you're comfortable with your ostomy throughout the summer months is to keep an eye on output and change your pouching system often. This helps you maintain a strong peace of mind that allows you to confidently enjoy outdoor activities, social gatherings, and days by the water. To ensure you have everything you need while out for the day, take the time to pack an ostomy-specific bag filled with everything you'll need. This doesn't need to be overly large, just something to hold everything you may need in case of an emergency. If you plan to do anything that may make it difficult to access a bathroom, change your pouch before you go and have your supplies easily accessible in case of an emergency. 

 

Stay Hydrated

While it's important for everyone to stay hydrated during hot summer months, ostomates should be particularly careful to avoid dehydration. Since there's a continual output from your stoma, you tend to lose more fluids than those without a pouching system. Remember, the more fluids you lose through sweat or urine, the more you need. On days where you're outside, engaging in physical activity, or sweating a lot, aim to drink about a gallon of water. Your urine output should be a translucent yellow color.

Drinking water isn't the only way you can stay hydrated. You can also adapt your diet or take supplements. One recommendation is to add more fruits, salads, and water-based vegetables like cucumbers to your summer inspired diet. You can also use electrolyte tablets in your water to help replace those lost to sweat. Try to avoid over-processed drinks, especially "sugar-free" waters, as these can actually flush your system and rid your body of essential vitamins and nutrients. While it's okay to have one or two alcoholic beverages every now and then, keep drinking to a minimal. Certain coffees and teas are also considered diuretics, which can increase urine output and the risk of dehydration. If you're still struggling with hydration, talk to your doctor about taking Imodium to help thicken stoma output.

 

Keep an Eye on Your Seal

One of the things that ostomates struggle with the most during summer months is sweat. While advancements in technology and product design have improved adhesiveness over time, it's a good idea to keep an eye on your seal. You should be able to use one seal for a few days before it begins to be affected by sweat, but if you want optimal protection without the risk of loosening equipment, simply change your seal more often. You can also ask your doctor for recommendations on products. One great way to add fixation security is to consider barrier strips that affix on the outside of the barrier/wafer. This can help create even stronger, water and sweat resistant seals.   

 

Wear Breathable Clothes

Another way to help you combat the heat and reduce sweating is to wear breathable materials and loose-fitting clothing. There are several brands of clothing that were created specifically to help combat sweating, but if you want to keep things simple choose shirts and pants made of cotton. Cotton is extremely breathable and tends to be more comfortable for long-term use. Synthetic fabrics, on the other hand, can actually increase your body temperature and stick to your skin throughout the day. Breathable clothes will help you reduce excess sweating, keep your ostomy concealed, and maximize comfort on even the hottest summer day.

 

Maintain a Healthy Weight

Getting to a healthy weight is an important part of ongoing ostomy care. Not only does this help you regulate your output but getting to a healthy weight also helps improve stoma health. Being overweight can cause problems with ostomy pouch adherence, which can increase your risk of leaks. Losing excess pounds will also decrease your risk of complications, allowing you to live a long, healthy life.

 

Prioritize Snacks That are Easy to Digest

On days you plan to be out and about from sunrise to sunset, make sure you have plenty of ostomy-friendly snacks on hand. Being outside in the heat can be draining and you don't want to have to rely on unhealthy or overly processed foods for energy. Consider packing some whole fruits, nuts, and meal-replacement bars to help you stay energized and ready to tackle the day.

 

Get Added Support

There are options for using supportive ostomy products to help increase discretion and security while you're on the go. There are also additional products that are meant to reduce sweating and keep excess moisture away from your stoma—including ostomy-safe antiperspirant. Just make sure that any products you use are hypoallergenic, unscented, and low in additives.

While it's normal for ostomates to worry about their ostomy bag coming loose or falling off while they're swimming, this shouldn't restrict you from enjoying yourself. If you love swimming and other water activities, just make sure you're using high-quality barrier strips or adhesives and ensure your pouching system fits properly. Aside from these two preparations, you can enjoy oceans, lakes, and public pools without having to worry about leaks. Continue to check on your equipment periodically throughout the day and empty your pouching system prior to swimming to give you a stronger peace of mind.

 

Wear Sunscreen

Most ostomates are taking some type of prescription medication, which often increase your skin's sensitivity to harmful sun rays. While you don't need to stay in the shade all summer, it's important that you wear sunscreen and take preventative measures to avoid sun burn while decreasing your risk of skin cancer. Use a sunscreen that blocks both UVA and UVB rays, wear sunhats or long-sleeved swim shirts, and try to stay out of the sun during the hottest parts of the day. You should also try to keep scars out of the sun, as the UV rays can damage them further. See your dermatologist yearly to undergo preventative skin cancer checks and catch any signs of skin damage early.

 

Focus on Peristomal Skin Care

Peristomal skin issues occur at a higher incidence during summer months due to sweating and increased irritation. This can lead to higher rates of discomfort, yeast infections, redness, or chafing. Most commonly, these skin issues will occur on the peristomal skin, where the pouch creates friction that's worsened with heat and humidity. To help keep your skin healthy, consider using a powder to absorb any excess sweat. Continue to wash your peristomal skin regularly and avoid using lotions or creams that are filled with excess chemicals or fragrance. For persistent peristomal skin issues, talk to your doctor about medicated creams or ointments.

 

Be Prepared for Vacations
Summer is a great time to take a family vacation or explore a new region. Just because you're living with an ostomy doesn't mean you have to be restricted in where you go. If you plan to take any trips this summer, the most important thing you'll need to do is pack strategically. With a little preparation and a surplus of ostomies supplies at hand, you'll be ready for anything. In addition to packing enough ostomy supplies, always make sure that you have access to water to stay hydrated. You may also want to ask your doctor for recommendations of specialists in other states in case of an emergency.
Regardless of if you're a new ostomate or have been changing your pouch for years, summer can be a difficult time. If you're not comfortable wearing clothing that reveals your ostomy pouch, don't! There are several options for swimwear to help you maintain a discreet lifestyle without sacrificing the things you love. Another way to help grow your confidence is to find an ostomy support group through the United Ostomy Association of America, Inc. You can also ask questions directly to the NWA Ostomy Support Group website regarding products, swimwear, and more. Byram Healthcare is another resource that provides ongoing updates to the ostomy community, ostomy education and support, and products that can be discreetly delivered to your door. For young children undergoing an ostomy, check out our Awesome Ollie Bear Program.