ConvaMaxTM SUPERABSORBER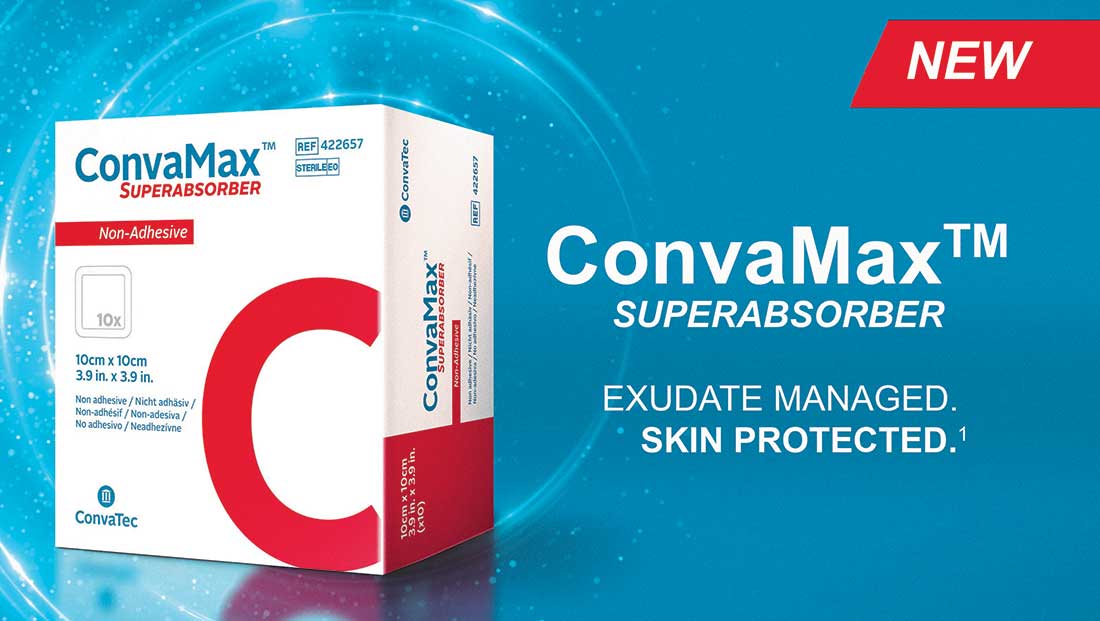 Introducing ConvaMax™ - the NEW superabsorber dressing from ConvaTec


High fluid absorption*
Exudate from chronic wounds can be corrosive to the wound bed and intact skin. ConvaMax™ absorbs high levels of exudate into the Superabsorbent (SAP) core (up to 170g/100cm2) locking it away from the wound and helping to promote skin integrity.

Extra protection*
ConvaMax™ can be used as a primary or secondary dressing. When an additional primary dressing is required, it may be used with Hydrofiber® dressing such as AQUACEL® EXTRA™. Exudate can transfer through the Hydrofiber® layer and be absorbed by ConvaMax™, providing a combination of an advanced wound contact layer and high absorption capacity.

High retention of fluid and bacteria*
Once exudate has been absorbed, ConvaMax™ retains the fluid within the SAP core, ensuring it is not released back to the wound, bandaging or clothing.

Soft and conformable*
It's soft on the skin, easy to apply and easy to remove for patient satisfaction. The protective blue backing prevents strike through and maintains conformability.
Choosing a dressing that effectively manages the exudate level of the wound can result in extended wear time, producing a positive impact on wastage and costs, and may also help with healing.
*In-Vitro Performance Characteristics of ConvaMax™, WHRI6045 MS161, Data on file, ConvaTec.
When ConvaMax™ works best
Manages excess moisture to protect skin integrity
Where there is a real risk of skin damage due to high levels of exudate, ConvaMax™ is ideal. It is available in non-adhesive and silicone adhesive forms, providing complete flexibility to support your care protocol. This includes pressure bandaging or the use of an additional primary dressing.
1. World Union of Wound Healing Societies (2019) Consensus Document. Wound exudate: effective assessment and management. Wounds International. Available at: www.woundsinternational.com