May 12,2021 |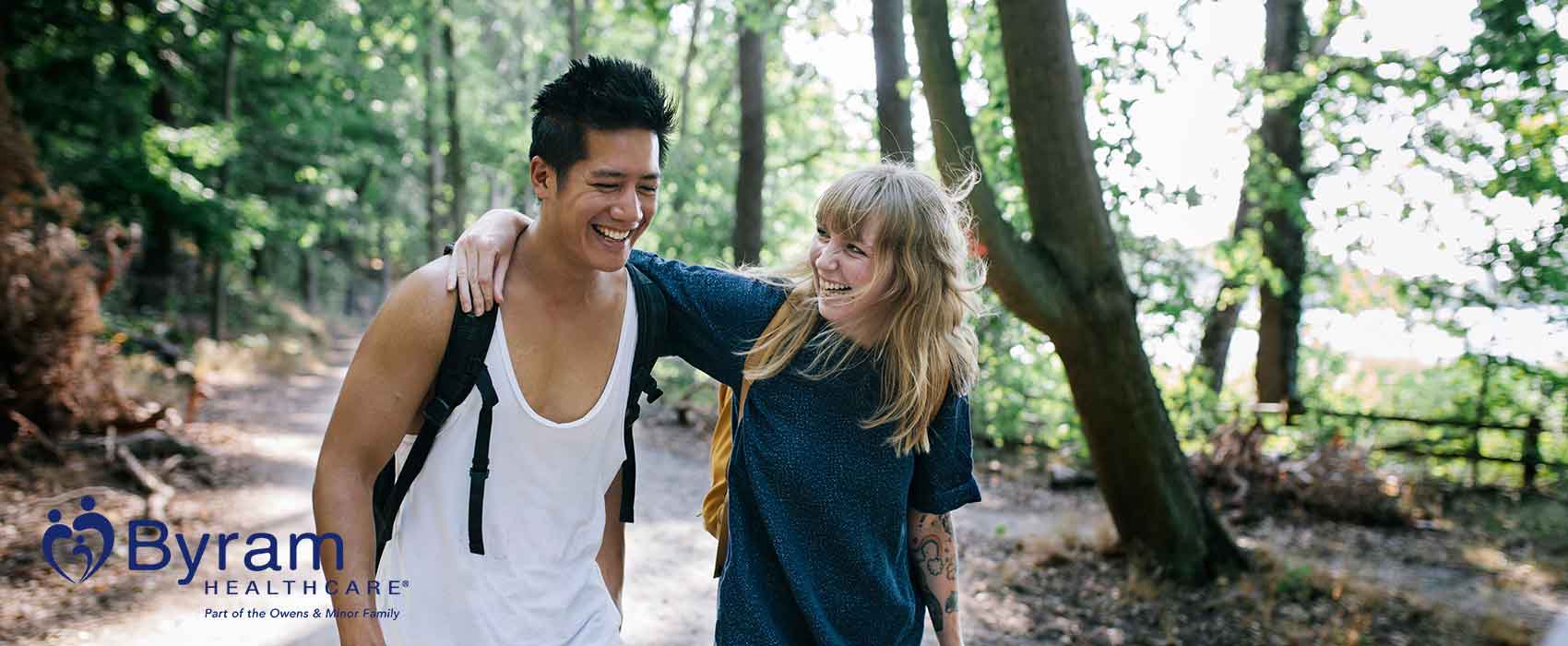 Across the world, more than 10 million people are affected by some type of inflammatory bowel disease (IBD). To raise awareness of and familiarity with inflammatory bowel disease, every year on May 19, World IBD day is held. On this day, communities bind together to further educate the public about IBD and help raise funds to support finding IBD cures and improving overall quality of life for those affected. World IBD day consists of organizations from 50 countries on five different continents who come together to help raise awareness and educate the public on the debilitating aspects of IBD, which consists of incurable, chronic digestive diseases. This year, to help further educational efforts, here's what you need to know about inflammatory bowel disease.
What is Inflammatory Bowel Disease (IBD)?
Inflammatory bowel disease is a group of disorders that create irritation, inflammation, and swelling of the digestive tract. The digestive tract, which encompasses the mouth, esophagus, stomach, and small and large intestines, works to break down food for nutrient absorption and elimination of waste. When inflammation occurs, it can result in painful symptoms that can disrupt your everyday life. The two main types of IBD include Crohn's disease and ulcerative colitis. Surgical treatment for either may result in an ostomy—a lifesaving procedure.
Crohn's Disease
Crohn's disease is a condition that can affect almost any part of the digestive tract—from the mouth to the anus. The damage appears in patches that are sporadic throughout the digestive tract, often residing next to healthy tissue. Many cases of Crohn's disease are diagnosed within the last section of the small intestine and colon, but the reason for this is unknown. Crohn's disease has increased in prevalence over the years, currently affecting about 26-199 people per 100,000 in the U.S. with most diagnosis occurring between the ages of 20 and 29. Crohn's disease is characterized by varying levels of pain, ulcers throughout the gut and mouth, diarrhea, fatigue, weight loss, anemia, anal bleeding, anal fissures, fatigue, and more. Many of these symptoms vary depending on the location of the affected area.
Ulcerative Colitis
Ulcerative colitis is a condition that causes inflammation throughout the large intestine or colon. Unlike Crohn's disease, damaged areas due to ulcerative colitis are continuous. There are different classes of ulcerative colitis, depending on location and severity, which include: o Ulcerative Proctitis – inflammation is contained within the rectum; this is a mild form of ulcerative colitis. o Universal Colitis – inflammation affects the entire colon. o Proctosigmoiditis – inflammation covers the rectum and lower end of the colon. o Distal Colitis – inflammation extends up the rectum and up the left side of the colon. o Acute Severe Ulcerative Colitis – inflammation affects the entire colon; this is a severe form of ulcerative colitis and is rare. Your symptoms and treatment for each type of ulcerative colitis will vary based on the classification of your disease. The most common symptoms include abdominal pain and bloody diarrhea with mucus, but many also experience similar symptoms to Crohn's disease.
Inflammatory Bowel Disease vs. IBS
Inflammatory bowel disease refers to a group of conditions that affect the digestive tract, as discussed above. Irritable bowel syndrome (IBS) is a term that's used to describe the symptoms that occur when the contents of your large intestine either move too quickly or too slowly. When comparing irritable bowel syndrome vs. inflammatory bowel disease, IBS is a functional disease and IBD is a structural disease. This means that testing done in response to IBS will not have conclusive results for underlying causes. While the two share similar symptoms the inflammation caused by IBD is physical damage and can be seen during testing. Understanding the difference between the two, and getting the proper diagnosis, will allow you to undergo effective treatment options. IBD is also different from celiac disease. While the symptoms are similar in nature, celiac disease is a specific response to the intake and digestion of gluten. A few months after those suffering from celiac disease change their diet and eliminate gluten, the symptoms will dissipate.
What Causes IBD?
Unfortunately, the specifics regarding inflammatory bowel disease causes are still unknown. Many doctors originally believed that it was caused by stress and diet. While these still tend to aggravate IBD, they are no longer suspected to be the underlying cause. Instead, a problem within the immune system is beginning to be considered. Abnormal responses within the body can cause your immune system to attack the cells of your body, such as those in the digestive tract. While the cause remains unclear, there are certain risk factors that can contribute to the onset of inflammatory bowel disease. The first is genetics. Those who have a family history of IBD are more likely to develop it themselves, but that's not the only indicator. Other risk factors include: - Age – IBD most commonly develops before someone turns 30 years old - Race/Ethnicity – Caucasians are at the highest risk of IBD - Smoking – smoking cigarettes increases your risk of developing Crohn's disease - Nonsteroidal Anti-Inflammatory Medications – increased use can put you at greater risk and worsen symptoms
Common Symptoms of IBD
Since inflammatory bowel disease is a chronic condition, those who are diagnosed will go through periods of time where they experience varying degrees of symptoms. In some instances, there may be no symptoms present. During flare ups, symptoms may increase in severity and intensity. Symptoms of IBD also depend on the type of disease and which part of the intestinal tract is affected. Some of the most common symptoms of IBD, for both Crohn's disease and ulcerative colitis, include the following: - Abdominal cramps - Pain - Diarrhea that may be bloody - Severe urgency to have a bowel movement - Fever - Weight loss - Loss of appetite - Anemia
Complications of IBD
In addition to the symptoms above, there are some complications associated with IBD. Those suffering from either Crohn's disease or ulcerative colitis may be at higher risk for developing colon cancer, blood clots, skin, eye, and joint inflammation, side effects from medications, and primary sclerosing cholangitis. Complications that are specific to Crohn's disease include bowel obstruction, malnutrition, fistulas, and anal fissures. Complications that are specific to ulcerative colitis include toxic megacolon, perforated colon, and severe dehydration. If you are diagnosed with IBD, your doctor will work with you to ensure that complications are minimized, and you live a healthy life.
Diagnosing Inflammatory Bowel Disease
If you're experiencing symptoms of IBD, see your doctor as soon as possible. While there is no cure for inflammatory bowel disease, there are ways to help manage your symptoms and live a healthier life. The first step in doing this is getting the proper diagnosis so that your doctor can better understand what type of IBD you have, and which area of the digestive tract is being affected. Some diagnostic exams and tests include: - Stool Exam – this is done to rule out bacterial, viral, or parasitic causes of symptoms and check for blood. - Complete Blood Count – increased white blood cell counts indicate the presence of inflammation. Other blood tests may also be performed to get more information. - Barium X-Ray – this is done to check the gastrointestinal tract for abnormalities. - Radiologic Tests – CT scans, MRIs, and ultrasounds can help diagnose IBD. - Sigmoidoscopy – this is a camera used to visually examine areas of your large intestine. Biopsies can also be taken. - Colonoscopy – like a sigmoidoscopy, but the scope is longer so that the entire colon can be examined. - Upper Endoscopy – this is used to examine the first parts of your small intestine to look for damage or inflammation. - Capsule Endoscopy – this test involves patients swallowing a small capsule so that doctors can see pictures of your entire digestive tract.
How to Treat IBD
While there is no cure for IBD, there are several treatment options. The first step is incorporating anti-inflammatory drugs to help decrease symptoms from inflammation. However, these drugs can have a lot of side effects, so make sure that you work with your doctor to find something that fits your lifestyle. Treatment also includes making healthy lifestyle choices, staying hydrated, quitting smoking, taking a few supplements, and potential surgery to remove affected areas. For more information on treatment options, talk to your doctor to determine a plan that fits your diagnosis. World IBD Day takes place on May 19 every year. It's an effort to unite people worldwide in their fight against IBD, which includes both Crohn's disease and ulcerative colitis. Byram Healthcare is proud to support World IBD Day in an effort to raise awareness about this chronic digestive disease. To support the organizations involved and learn more about how you can raise awareness for this year's World IBD Day, we encourage you to join us and #breakthesilence.