February 04,2022 |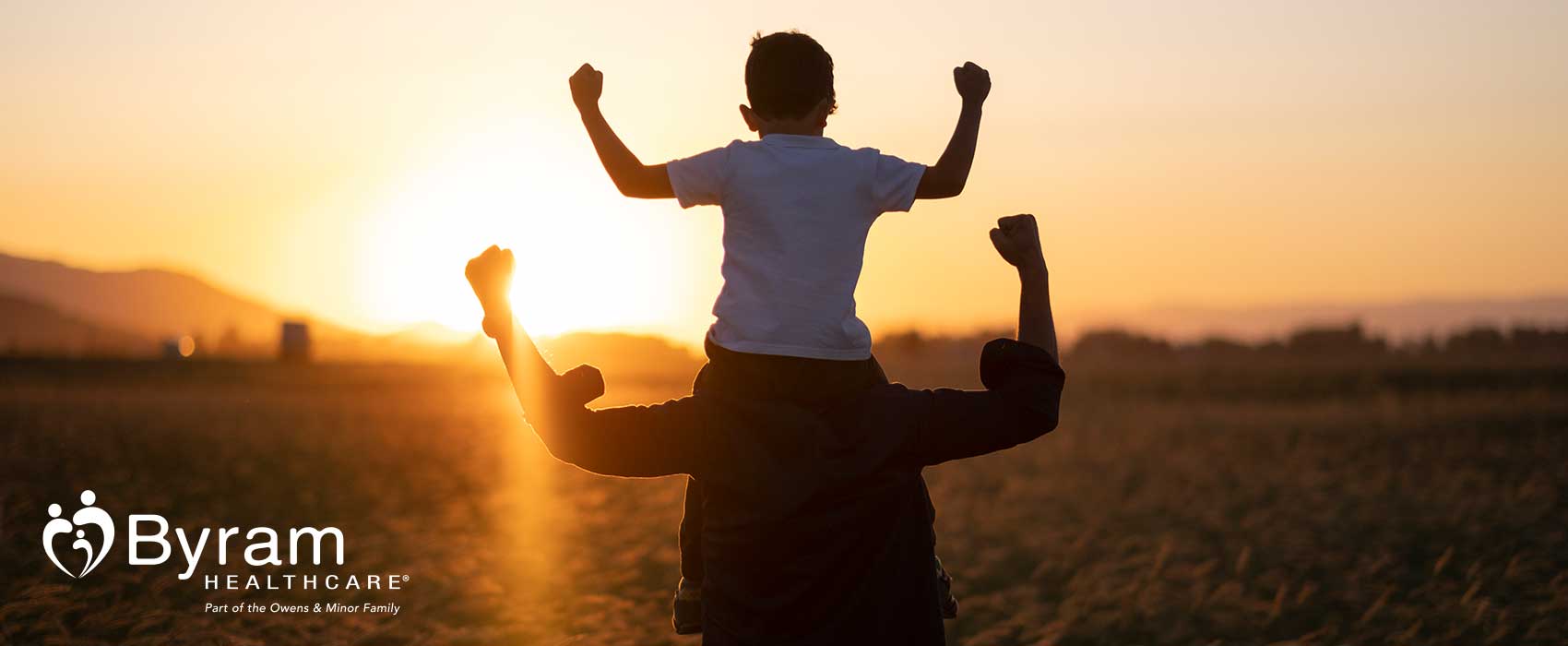 Type 1 diabetes is a lifelong condition that requires ongoing care and attention. At times, it can be stressful, tiring, and make those involved feel hopeless. While type 1 diabetes can occur in adulthood, it tends to peak in children between the ages of 4 and 7 years old, and again in children between 10 and 14 years old. While no parent wishes type 1 diabetes on their children, the triggers are fairly unpredictable. To help you navigate this condition, here's more information on what to do when your child is diagnosed with type 1 diabetes.
Take Some Time to Process
Swift treatment is important after any type 1 diabetes diagnosis. This helps keep blood sugar levels within a healthy range, thus reducing the risk of both short and long-term complications. After the diagnosis, it can feel like things are spinning out of control but at the end of the day, your role as a supporting parent is crucial. To help you better understand, accept, and manage your child's condition, take some time to process everything without judgment.
During this time, many new parents go through the typical stages of grief. This is completely normal. While your child can still have a long, happy life, they will need to learn how to meticulously care for and manage their ongoing condition. Type 1 diabetes means that you'll need to reassess a lot of things you do, and it will affect many aspects of childhood, especially school functions, sleepovers or parties, and Halloween activities.
It's common to progress through shock, sadness, and anger knowing that your child will have to deal with this for the rest of their lives. Don't feel bad for expressing these emotions and understand that this is not your fault. There are many factors that can trigger type 1 diabetes and unfortunately, it can be difficult to prevent. However, your child will need you to be strong, so if you're going to grieve, do so privately and try to remain optimistic and encouraging when discussing the diagnosis with your son or daughter.
5 Tips for Parents of Newly Diagnosed Type 1 Diabetes Children
Navigating type 1 diabetes management with your child can be tough, but it's not impossible. Know that you're not alone and with the proper treatment, your child will live a long, healthy life. To help, here are five tips for parents of children with type 1 diabetes.
Find a Good Doctor

Throughout your child's type 1 diabetes journey, you'll work alongside a pediatrician to monitor blood glucose levels, administer insulin, and properly manage the condition. Find a doctor that you trust and are comfortable with, as you'll need to meet with them often.

Depending on your needs, it may be beneficial to create a more comprehensive diabetes support team that includes a dietician, an endocrinologist, a certified diabetes educator, a pediatrician, a mental health professional, and alternative care doctors in case of emergencies. These doctors should be competent in children with diabetes for the proper care. Schedule an appointment with each doctor shortly following your child's diagnosis to begin a comprehensive treatment plan as soon as possible. Whenever you need additional support, tips, or health assessments, feel free to reach out and make follow up appointments.

 

Get Educated

Understanding your child's type 1 diabetes takes calculated effort. There are hundreds of new terms and concepts that you'll need to learn, symptoms to watch out for, and action plans in case things go wrong. While this can be overwhelming, there are plenty of valuable resources online to help. Two of the most important things to understand from the beginning are the symptoms of hyperglycemia and hypoglycemia.

Hyperglycemia occurs when blood sugar levels are too high. This can cause symptoms like increased thirst, a heightened need to urinate, dry skin, nausea, fruity-smelling breath, shortness of breath, and more. Hypoglycemia is when your blood sugar levels are too low and is often referred to as insulin shock. Some symptoms include chills, pale skin, irregular heartbeat, fatigue, shakiness, hunger, and more. While both of these situations are serious and should be addressed immediately, hypoglycemia can be life threatening and requires swift action. Talk to your doctor for more information on how to act fast in response to hypoglycemic symptoms.

 

Create a Diabetes Care Plan

One of the most important things that you'll need to do after your child is diagnosed with type 1 diabetes is create a diabetes care plan with your doctor. This will include treatment options such as monitoring blood sugar levels, insulin administration, diet, and exercise. It feels overwhelming at first, but eventually this new lifestyle will become second nature.

 

Checking Blood Sugar Levels

Type 1 diabetes requires ongoing blood glucose monitoring to ensure that levels remain stable and within a healthy range. While you can help them with this, it's important that your child understands how to check their own blood sugar levels for proper care, especially if they're attending school. Your doctor can recommend a suitable blood glucose meter that's easy for children to operate. Talk to your doctor about continuous blood glucose meters to make monitoring glucose levels easier throughout the day.

 

Insulin Administration

When your child is diagnosed with type 1 diabetes, it means that their body isn't naturally making enough insulin to regulate blood sugar. Since insulin is the hormone that converts sugar into energy, this can create dangerous build ups that increase the risk of serious complications. Those living with type 1 diabetes therefore require insulin administration to process the intake of sugar. You'll create a plan that's specific to your child with your diabetes management team. This includes learning how to administer insulin at home after checking blood sugar levels.

 

Proper Diet and Exercise

Your diabetes care plan should also include a plan for eating healthy and getting enough exercise. Both of these habits help keep blood sugar stable and complications at bay. If you have any questions about certain foods or physical activities, don't hesitate to ask.

If, at any time, you're unsure about something, don't hesitate to reach out to your doctor. Managing type 1 diabetes requires learning a lot of new information and it's normal to need guidance in the beginning. If you're looking for an easy way to organize and track data, check out some of the best diabetes apps on the market.

 

Work as a Family

Diabetes affects the whole family. One of the best ways to avoid disrupting your dynamic is to make healthy changes together. If everyone in the family eats healthy and prioritizes physical activity as opposed to sedentary behaviors, your children will naturally pick up those habits as well. However, if everyone in your family eats unhealthy meals while you try to encourage your child to consume vegetables and whole grains, you're going to get a lot of push back. Children want to be included and when they are eating completely different meals than the rest of their family, it can cause a lot of emotional strain and negative thought patterns. Initiate changes for everyone in the family, one step at a time. A great way to do this is to prep nutritious snacks and adopt a diabetes friendly meal plan that's both healthy and delicious. Check out some of these recipes to get started.

 

Clear Out Some Space
It's important to have everything you and your family needs for diabetes management in an easily accessible area in your home. This makes it simple for everyone to act quickly in case of an emergency. A good place for your supply area is in an accessible kitchen cabinet or the pantry. Include your supplies along with anything you may need in an emergency such as glucagon, glucose tabs, candy, phone numbers, and insulin. You may also want to include snacks that have been divided into plastic bags and labeled with the carb count to make things easier for your child.
Having a child diagnosed with type 1 diabetes can cause a lot of mental and emotional challenges. It will affect the entire family, but that doesn't mean it has to lower your quality of life. The best way to help your child manage their diabetes is to promote healthy eating within the family and encourage plenty of physical activity alongside a healthy sleep schedule. If your child begins showing any signs of diabetes distress, or is struggling with the diagnosis, consider talking to a mental health professional who is well versed in childhood conditions.
To help you manage your child's type 1 diabetes with ease and avoid any long-term complications, Byram Healthcare has a range of diabetes management products, including our Caring Touch at Home™ Program. Browse our product catalog today and get your supplies delivered directly to your door.