May 03,2019 |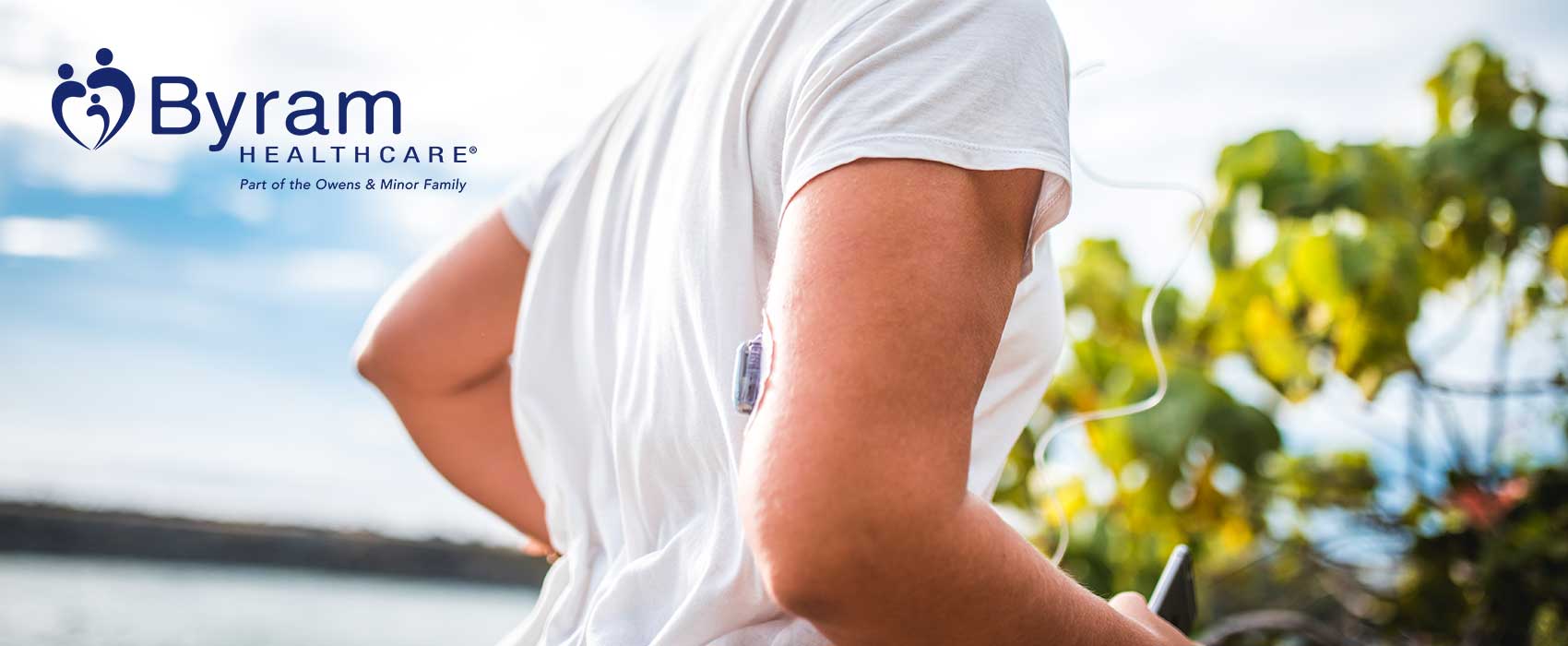 Blood glucose meters are the small devices used to measure and display your current blood glucose (sugar) levels.1 They're critical for the longevity and management of daily life in people living with diabetes. When blood glucose levels go unchecked, short and long-term problems can and will eventually arise. Since your blood sugar is affected by the food you eat, how much exercise you get, medications, stress, and more1, it's important to check your glucose levels consistently throughout the day. Thanks to advancements in medical science, blood glucose meters are readily available and make managing your diabetes much easier. In this article, we'll explore how to choose a blood glucose meter that fits your lifestyle.
How do Traditional Blood Glucose Meters Work?
The way the meter works is fairly simple. For most models, you enter a test strip into the device, clean your fingertip, give it a little prick using a lancet, and touch the test strip with the blood.2 Your current blood glucose levels are then displayed on the screen.
There are a few factors that will affect glucose readings when using a finger-stick meter. These include the user technique, the sterility of the testing site, the environment you're testing in, the type of test strips you have, or unknown manufacturer changes.1 Make sure you read the manufacturer instructions, always clean your finger, and avoid buying test strips from an un-trusted seller. Check regularly for any manufacturer updates.
How do Continuous Blood Glucose Meters Work?
There are also continuous glucose monitors (CGM). Instead of using finger pricks and blood samples for every test, a CGM uses a sensor that is placed underneath your skin to monitor the glucose in your interstitial fluid continuously throughout the day.3 The sensor then transmits information to the receiver wirelessly, which displays the information about your current levels and readings.
A continuous glucose monitor reduces the need for finger pricks and test strips. However, you will still need to use a traditional finger-stick method for calibrations, during initialization, before dosing insulin, and when your symptoms don't match the readings.3 Listen to your body and if you're unsure, take a finger-stick test.
How to Choose a Blood Glucose Meter
There are many factors that will determine which type of blood glucose monitoring device you choose. The first step is talking to your doctor or nurse about your options. They will be able to tell you the benefits and disadvantages of each meter based on your individual circumstances. The next step involves checking your insurance coverage. Some providers only cover specific types of blood glucose meters and accessories, so if you have a strict budget that might be your primary deciding factor.
If you're clear for either type of blood glucose monitor, consider the following features when choosing your blood glucose meter4:
Blood Sample Size

Some meters require larger blood samples than others, which can prove difficult for people with poor circulation or other health conditions.4 Make sure that you're choosing a meter that doesn't create strain on your fingers. If you need to test more frequently, a device that needs larger samples will become painful. Talk to your doctor about options for meters that require smaller blood sample sizes.

 

Accuracy

It's important to get an accurate reading of your blood glucose levels, which is the entire reason meters were created. Unfortunately, some meters aren't as accurate as they claim to be. External factors can also affect accuracy. Make sure that you buy from a trusted retailer and opt for an FDA-approved glucose meter. To ensure consistency, use one meter for your daily management.4 

 

Connectivity

Would you prefer your meter wirelessly connected to your phone? The connectivity options available today allow you to get a more in-depth look at your readings over time, the patterns that present themselves, and day-to-day fluctuations.4 If you don't use a meter that uses Wi-Fi or Bluetooth®, consider downloading an app and manually entering your data. Connectivity is convenient, but either way you should be viewing your readings from a big-picture standpoint. 

 

Ease of Use

You're going to be using your blood glucose meter for a long time, so find one that's easy to understand. The more complicated it is, the more likely you are to skip necessary tests. Make sure you understand how to use it and see if there are any added features that make your day-to-day management easier.   

 

Design

Form follows function, so take the time to find a meter that matches your lifestyle needs. There are plenty of varying sizes and shapes of meters on the market; all you need to do is find one that works for you.

 

Manual vs. Automatic Coding

Find a blood glucose meter that is automatically coded. If you end up getting a manual one, you'll have to input a code every time you start using a new pack of strips.4 This can be time consuming and frustrating, especially when there are automatically calibrated options on the market.

 

Storage Capability

The increased technology available today allows you to choose how you want to maintain and store your readings and data. Most devices come equipped with storage capacity, it just depends how much. There are options for blood glucose meters that hold thousands of readings and others that only reach 100.4 If you're trying to gain a wider picture on your diabetes, getting something with more storage capability is recommended. 

 

Speed

If you actually want to live your life, your meter should be fast. Otherwise, you'll find yourself sitting around multiple times a day. Try to find a meter that delivers results in 6 seconds or less.4

 

Affordability

This falls into the discussion we had previously about insurance coverage, but it's worth mentioning again. Diabetes can be expensive to manage when you don't go through your insurance, so make sure that you're buying something within your budget.

 

Site Sampling Requirements
Taking blood from the same site over and over again can be hard on your body. See if your meter allows alternate site sampling, but remember that alternate sites are sometimes less accurate because of the physiological differences in circulation.4
Everyone has a different preference, so what works for one person might not work for another. Take the time to do research on each of your doctor-approved options and consider your lifestyle before choosing a blood glucose meter. 
Is a Continuous Glucose Monitor Right For You?
Many people opt for the traditional, self-monitoring blood glucose meters simply because they're the only thing they know. However, if you have type 1 diabetes, need to test frequently throughout the day, and lead an active lifestyle, talk to your doctor about switching to a continuous glucose monitor. Since a CGM requires a doctor's prescription and insurance approval, it's best to work together to explore your options. If you're on intensive insulin therapy, have hypoglycemia unawareness, or frequently have high or low blood glucose, your doctor may recommend using a CGM. However, there are some instances where a continuous glucose monitor should not be used. While research is ongoing, as of now, CGM use for those living with type 2 diabetes is not recommended. Instead, you should continue to use the traditional finger-stick blood glucose meters.
Some of the best, most commonly used continuous glucose monitoring devices include the following:
Abbott FreeStyle Libre CGM Systems
DexCom CGM Systems
Eversense CGM Systems
Medtronic CGM Systems
It's important to mention again that while a continuous glucose monitor offers increased flexibility and control in diabetes management, you will still need to use a traditional, finger-stick meter in certain instances.
If you're unsure of whether or not a CGM is right for you, talk to your doctor today.
Conclusion
Diabetes is a chronic condition that requires everyday management, especially in terms of testing your blood glucose levels. While this might seem like a tedious task, it's important if you want to stay healthy and avoid any complications from diabetes. If you're interested in switching to a continuous glucose monitoring device, talk to your doctor today. If your doctor decides that a CGM will benefit you, Byram Healthcare has you covered. We're proud to provide you with the latest technology in diabetes management, including continuous glucose monitoring. We'll work with your insurance provider and doctor to ensure you're supported from start to finish, maximizing your coverage while minimizing out-of-pocket expenses. For more information and added support on diabetes management, sign up for Byram Healthcare's Caring Touch At Home™ Program. We focus on providing exceptional customer service and top-of-the-line brand name products while lowering your overhead costs. The Caring Touch At Home™ Program combines convenience, affordability, and choice to deliver extensive service and support to everyone living with diabetes.
For added support, get in touch with Byram's Diabetes Center of Excellence—a one source, total solution for diabetes care. Our Center of Excellence combines high quality products with clinical and educational research to help you better manage your condition, support all of your needs, and live a long, healthy life. Browse our products, find resources, and learn more about our Caring Touch At Home™ Program today.
Sources:
1https://www.healthline.com/health/type-2-diabetes/choosing-glucose-meter
2https://www.mayoclinic.org/diseases-conditions/diabetes/in-depth/blood-glucose-meter/art-20046335
3https://agamatrix.com/blog/continuous-glucose-monitoring/
4https://agamatrix.com/blog/choosing-glucose-meter/