September 25,2023 |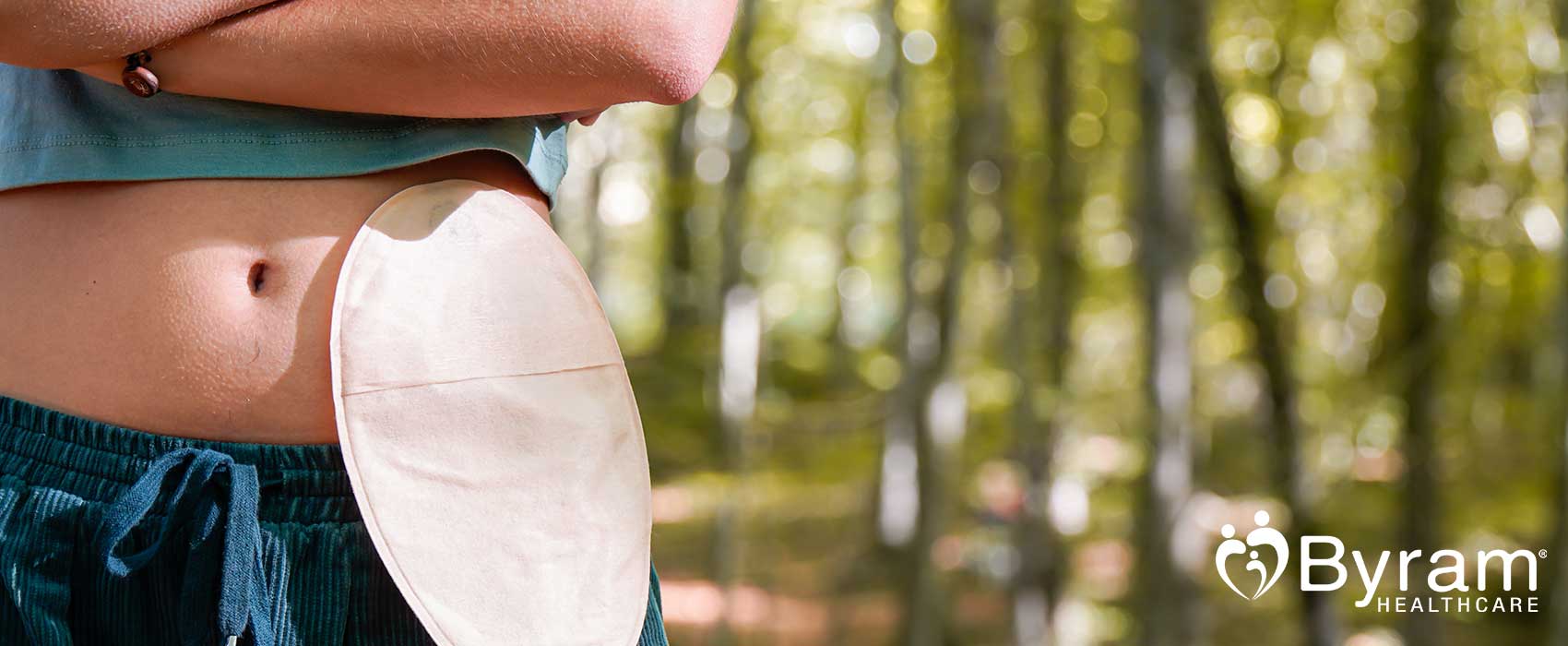 Living with an ostomy can bring about many changes, and sometimes you may experience stoma issues and complications. While this can sound scary at first, most of them are minor and can be easily treated or prevented. To help you better understand how to care for your stoma and when to call a doctor, consider the following common stoma issues and complications.
What is a Stoma?
A stoma is a surgically created opening on the abdomen following ostomy surgery. It connects to the internal organ that was affected during your ostomy surgery, which can be either the bowel or part of the urinary tract. A colostomy and ileostomy result in a part of the bowel being connected to the stoma, while a urostomy connects to the urinary tract. The stoma allows waste products (fecal matter or urine) to leave the body in cases where the natural route is either non-functional or disrupted. If you have a temporary ostomy, the bowel or urinary tract will be reattached, and the stoma will be closed. In cases of permanent ostomies, you'll need to continue to care for your stoma for the rest of your life.
Although there are several reasons that you might need an ostomy, the surgery is considered a life-saving procedure. If you're struggling to adjust to your ostomy surgery, consider joining an ostomy support group. To find something near you, look at the list of support groups affiliated with The United Ostomy Associations of America (UOAA).
How Does a Stoma Change After Surgery?
After ostomy surgery, your stoma will go through some changes as it heals and adapts. Your doctor will give you all the information you need to ensure things are going well, but it's important to keep an eye on things to avoid complications.
Immediately following your ostomy, the stoma will be pinkish-red and moist. It might be swollen and will likely protrude from the abdomen a bit. You'll begin to experience output from the stoma within a few days post-op, which may be a bit strong or watery as your body adjusts. Your doctor will likely have you follow a specific diet until your bowel can adapt to the changes. Over the next few weeks, your output will become more normal, and the stoma will decrease in swelling. A healed, healthy stoma will still be pinkish-red and moist but should only protrude slightly from the abdomen. Since there are no nerve endings, it shouldn't hurt or cause discomfort.
Common Stoma Issues and Complications
Learning how to change your ostomy pouch and care for your stoma is important, but even with proper care, some common stoma issues and complications can occur. Consider the following list to help you better understand how to identify and care for them.
1. Peristomal Skin Irritation
Peristomal skin irritation is one of the most common stoma issues and complications among ostomates. Even with the highest quality care, there's a chance that you'll experience some degree of irritation at a point in your life as an ostomate. The most important thing is to understand how to identify damaged peristomal skin, what's causing it, and how to care for it. Usually, there are four main causes of peristomal skin irritation:
Poor Peristomal Skin Care
Ostomy skin care should be an important part of your daily routine. However, peristomal skin is sensitive, so you shouldn't use harsh soaps or anything with fragrance to clean it. Instead, simply rinse the area around your skin with warm water. Always opt for mild, unscented soap without any added components if you need soap. Talk to your doctor or ostomy nurse for more peristomal skin care tips.
Output Contact with Skin
Ostomates who have undergone a colostomy may experience pancaking, where the output sticks to the top of the ostomy bag. This can cause the ostomy pouch to lift, leading to output coming into contact with the skin. The greater the contact, the more irritated peristomal skin can become. If you're experiencing any issues with your ostomy bag, don't hesitate to contact your doctor or ostomy nurse.
Poor Fitting Ostomy Bag
Choosing the right size ostomy bag is essential to comfort and peristomal skin health. If the bag is too big for your stoma, it can cause gaps that could lead to leaking and irritation. If the bag is too small, it can dig into the stoma and cause cuts or abrasions. Your doctor will show you how to size your stoma properly to get the right fit.
Allergies
Some ostomates find that they're allergic to certain ostomy bags because of the materials they're made from. An allergic reaction will appear as a rash on the skin that was in contact with the wafer/skin barrier, and it may itch or cause weeping of the skin. It's important to notify your doctor so you can change the type of ostomy pouch you use to find something that doesn't irritate your peristomal skin.
2. Stoma Bleeding
Some stoma bleeding is normal in the weeks following your ostomy surgery, especially during cleaning. Stoma bleeding should decrease as your body adjusts to living with an ostomy. Slight traces of blood during cleaning may persist, and that's completely normal. Stoma bleeding may also occur if it's been irritated or rubbed by your ostomy pouch. These aren't usually things to be concerned about, as the bleeding should only be minor and should clear up on its own.
However, if you notice the bleeding coming from inside your stoma, it's important to contact your doctor or ostomy nurse as soon as possible. Internal stoma bleeding could indicate intestinal bleeding, which requires medical attention. If you're unsure whether the bleeding is coming from the surface of your stoma or inside, see your doctor to ensure a correct diagnosis.
3. Stoma Infection
Stoma infections can happen when bacteria or pathogens enter the stoma site. Although this is more common immediately following your surgery, it can happen anytime. Luckily, proper hygiene and regular peristomal skin cleaning can reduce the risk of infection. However, medical attention is necessary for diagnosis and treatment if an infection is suspected. Contact your doctor if you experience redness, swelling, warmth, or discharge.
4. Stenosis
Stenosis is when the stoma begins to narrow over time, resulting in a very small and tight opening. This can make it difficult for waste to pass through the stoma, which may result in bowel obstructions and discomfort. Oftentimes, individuals with stenosis will have output that looks almost ribbon-like, or it may be liquid. Depending on its severity, your doctor may recommend stoma dilation or revision surgery to correct the problem.
5. Bowel Obstruction
Bowel obstructions occur when a blockage in the intestine prevents stool from passing through the stoma. This can be caused by certain foods, adhesions, or scar tissue within the bowel. An obstruction often leads to severe abdominal pain that may be paired with nausea or vomiting and a hard, swollen abdomen. If you suspect you have a blockage or obstruction, it's important to seek immediate medical attention.
7. Retracted Stoma
A retracted stoma occurs when the stoma sinks below the skin level. This can make it challenging to properly attach and secure the ostomy bag, which increases the risk of other stoma issues and complications. Surgical revision may be necessary if a stoma retracts significantly and doesn't correct itself, so it's important to contact your doctor if it occurs.
8. Prolapsed Stoma
A prolapsed stoma is the opposite of a retracted stoma. It occurs when the stoma protrudes excessively from the abdominal wall. This can lead to discomfort, skin issues, and difficulty managing the ostomy bag. In some cases, your doctor may recommend surgery to address the issue.
9. Parastomal Hernia
A parastomal hernia is a hernia that develops near the stoma site. It occurs when a portion of the intestine or other abdominal tissue protrudes through the abdominal wall. They're one of the most common stoma issues and develop in about 78% of ostomates within two years of the initial surgery. Parastomal hernias may or may not cause pain, but most of them require medical intervention for treatment.
10. Necrosis
Necrosis is a rare stoma complication, but it's still worth mentioning. Necrosis is when the tissues in the stoma or surrounding area begin to die. This can happen due to reduced blood supply, infection, or other factors and requires immediate medical attention to reduce the risk of further problems.
Several common stoma issues and complications can occur, but serious issues can be avoided with proper ostomy care. As a new ostomate, don't hesitate to contact your doctor or ostomy nurse if you have any questions. Additionally, to help reduce your risk of stoma complications, always use high-quality ostomy supplies like the ones offered through Byram Healthcare. In addition to hundreds of ostomy supplies that can be discreetly delivered to your door, we provide ongoing updates to the ostomy community, education, and support.