May 25,2021 |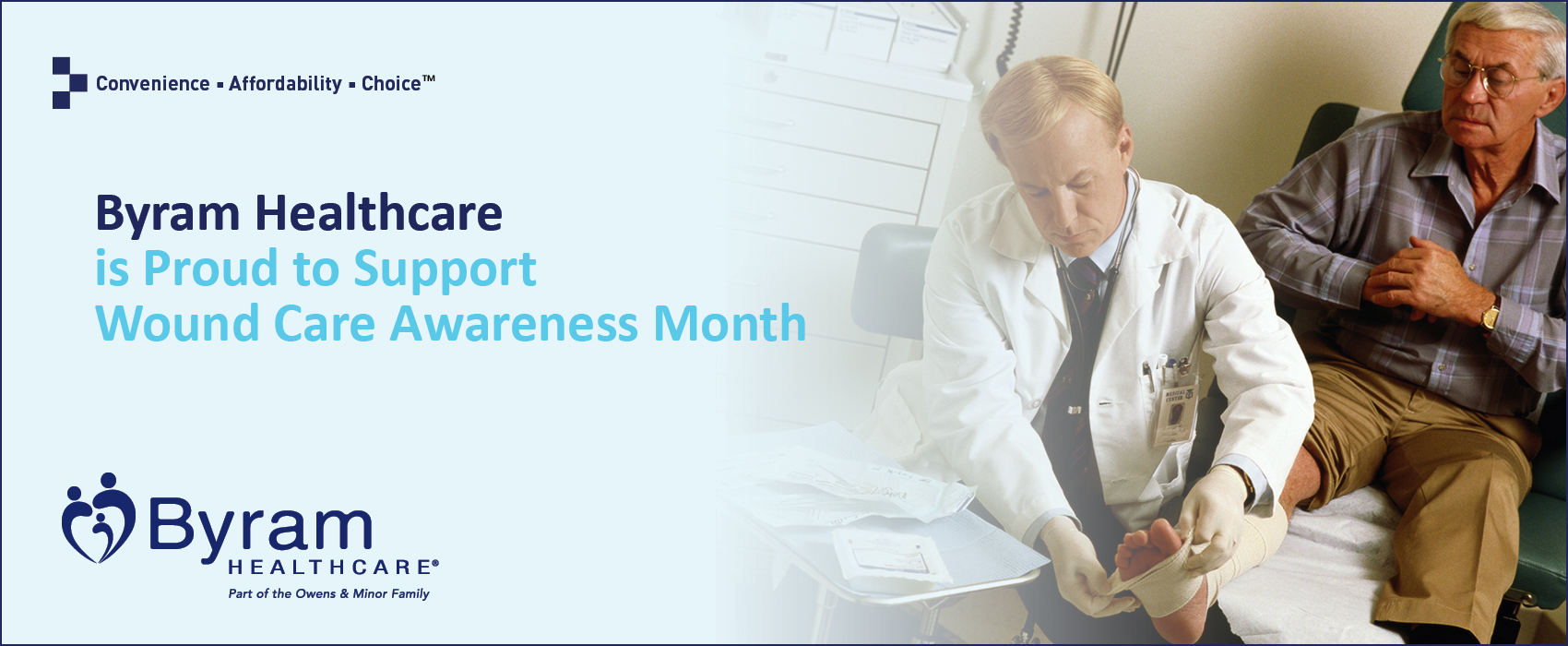 While the occasional scratch or scrape is usually nothing to worry about, chronic wounds are a growing healthcare problem with unrealized risks. Chronic wounds are those that fail to progress through a healthy healing process, often stalling during inflammation. They can limit your quality of life and lead to serious complications such as infection, hospitalization and even amputation. Currently, there are nearly 7 million Americans living with a chronic wound and many people are unsure as to how to prevent, manage, and treat their injury. In an effort to raise awareness and help those with chronic wounds avoid serious complications, the month of June is recognized as Wound Care Awareness Month. Throughout this time, Byram Healthcare and outpatient Wound Care Centers around the country band together to raise awareness about common types of wounds, treatment options and prevention. In support of Wound Care Awareness Month, here is some information to help you better understand how to recognize and prevent chronic wounds.
Different Types of Chronic Wounds
Any wound has the potential to become chronic based on differing factors. The transition occurs most often during the inflammation stage of healing where the wound festers, worsens, and in some cases, becomes infected. Some of the most common types of chronic wounds include venous ulcers, arterial ulcers, diabetic foot ulcers, pressure ulcers, infectious wounds, ischemic wounds, surgical wounds and radiation poisoning. If you or someone you love is experiencing a non-healing wound, seek treatment with a medical professional or at a Wound Care Center immediately.
Preventing Chronic Wounds
To avoid any serious complications from chronic wounds, it's important to take the proper preventative approach. If you suspect that your wound has already advanced, talk to your doctor about how to take care of chronic wounds and keep yourself healthy.
Understand Your Risk Factors
There are several different factors that can increase your risk for developing chronic wounds. Knowing if they apply to you can help you take a more proactive approach and facilitate a healthy wound healing treatment. If you have any of the following conditions, talk to your doctor about how you can further prevent the formation of chronic wounds.
Diabetes
High Cholesterol
Severe Burns
Cancer
HIV/AIDS
Chronic Medical Conditions
Vascular Disease
Heart Disease
Hypertension
Atherosclerosis
Anemia
Varicose Veins
Deep Vein Thrombosis
Elderly
Immobility
Obesity
Unhealthy Lifestyles
Smoking
Sedentary Lifestyle
Previous History of Ulcers
Multiple Surgeries
Bed Rest
Immunocompromised
High-Risk Occupation (i.e., radiation exposure)
Offload Excessive Pressure
Since pressure ulcers account for roughly 43% of chronic wounds, making sure that you avoid excessive pressure on any given part of your body for too long is essential. Consider using a specialized mattress that works to prevent pressure injuries. Change positions every 15 minutes when seated and avoid sitting with crossed legs. Regular exercise will help improve circulation and your body's natural ability to heal. To prevent diabetic foot ulcers, utilize the proper footwear, never go barefoot, and check your feet and legs regularly. If immobilized, you should undergo repositioning throughout the day, roughly every two hours, and try to engage in physical therapy to improve mobility and offset pressure.
Optimize Nutrition
Your body heals from the inside out, so fueling it with the proper vitamins, minerals, and nutrients will help aid in the prevention of chronic wounds. Instead of taking supplements, focus on eating whole, unprocessed foods and plenty of lean protein. If you're overweight, eating healthy food can help reduce your Body Mass Index (BMI), which is beneficial to chronic wound prevention. For those living with diabetes, always manage your blood sugar. If you have nutritional deficiencies and are already taking supplements, talk to your doctor about continuation during wound healing. It's also essential that you quit smoking, as smoking can significantly decrease your body's natural healing process.
Maintain Appropriate Moisture Levels
Wounds require a certain level of moisture to heal properly. Moist environments provide optimal conditions for wounds to heal faster, as dry environments can lead to cracking, dehydration, and elongated healing. However, too much moisture can proliferate bacteria, which increases your risk for infection. Using the proper wound dressings, you'll be able to maintain appropriate moisture levels to help prevent chronic wounds. If you have any questions about how to take care of your injury, and what wound dressing to use, talk to your doctor today.
Upkeep Standard Treatments
Treating wounds properly and in a timely manner will help prevent them from becoming chronic. This includes the standardized treatments for specific injuries. In some cases, this may include debridement, Negative Pressure Wound Therapy and Hyperbaric Oxygen treatment. Following these measures, using the correct dressings can help to create a better outlook. Following an injury, make sure you talk to your doctor about the best treatment options for your wound.
While chronic wounds are becoming an increasing healthcare problem with many unrealized risks, there are things you can do to prevent their proliferation. By taking the above measures, you can reduce your risk of having an acute wound become chronic. To help spread the word, Byram Healthcare and Wound Care Centers around the country recognize June as Wound Care Awareness Month. Click the link to learn more about Wound Care Awareness Month. To help encourage healthy wound healing, Byram Healthcare offers a range of products for wound care and treatment.