February 03,2022 |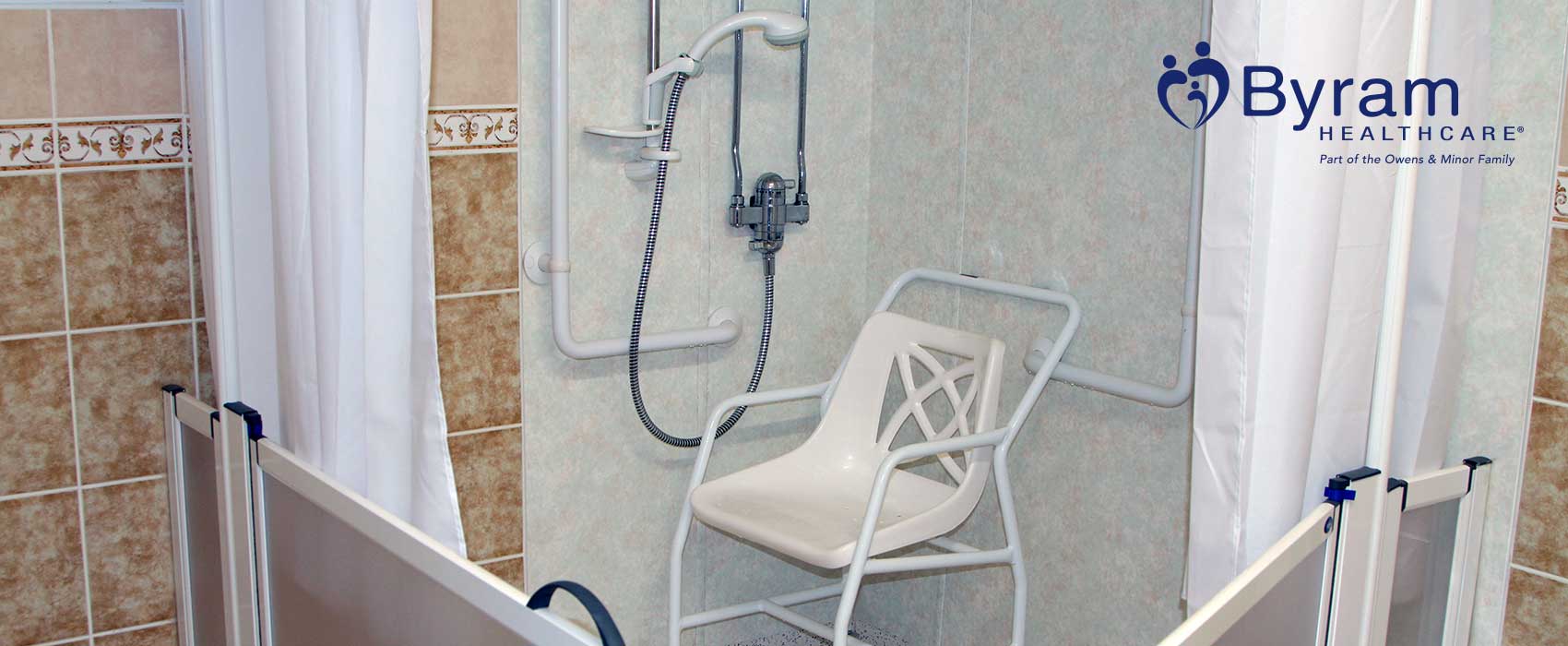 A spinal cord injury (SCI) is a life-changing injury that often results in loss of movement and mobility. Depending on the severity and location of the injury, this can present a lot of challenges, especially when it comes to your independence. However, with the help of physical therapy, adaptive tools, and a little creativity, there are ways for you to regain your independence and perform various self-care tasks—using the bathroom, showering, simple chores—without assistance. Here, we'll go over a few tips for taking a shower with a spinal cord injury.
Some Basics About Bathing with a Spinal Cord Injury
Maintaining a certain degree of independence is important for individuals living with a spinal cord injury. While the initial outlook of an SCI can seem bleak, there are still plenty of things that you can do on your own. To get there, it's important that you maintain an optimistic mentality and put effort into adapting your behaviors. You'll have to do things differently than you did before, but you can still accomplish things on your own. Regardless of how small a task it is, independence allows you to grow your confidence and become more self-sufficient.
However, that's not to say that everything is possible. There are still limits when living with a spinal cord injury and it's important that you understand yours. This is especially true in regard to bathing yourself with an SCI. During your first attempts at these tasks, you should have a caregiver, a trusted friend, or a family member nearby to help you if things go wrong. If you find yourself in a position and cannot move, you will need assistance. It's better to have someone nearby than to risk not being able to get help in time.
10 Tips for Showering with a Spinal Cord Injury
With that being said, showering with a spinal cord injury is possible. Try to be patient and expect to undergo a lot of trial-and-error. Eventually, you'll find something that works for you and become comfortable with the process.
Update Your Bathroom

The first thing you need to do in order to shower with an SCI with ease is to update your bathroom. Hire contractors to make sure that every part of your bathroom is wheelchair accessible. At a bare minimum, this should include a roll-in shower with a wide enough door to enter with a wheelchair. If your injuries allow for greater mobility, you may be able to use a regular bathtub for bathing, but don't try to overdo it. You can also raise the shower floor to create a makeshift ramp for easier entry into your shower. Make sure there are adequate bars in the bathroom so you can securely transfer yourself from your chair into the shower or bathtub. Suction cup handles can help you close your shower door with ease.

These types of renovations can be expensive, so check your eligibility for grants or other types of financial assistance. Your insurance provider may also have coverage for modifications up to a certain amount. If all else fails, have someone help with a DIY installation of grab bars. These are affordable at the local home improvement store; you just need to make sure they're securely installed to avoid problems when bathing alone.

 

Add a Shower Bench or Chair

In addition to the above essential modifications, consider adding a shower bench or chair to make the bathing process easier. A padded shower bench allows for easier transfers, so you don't have to worry about getting your wheelchair wet. Make sure that installation allows for easy access to the faucet and temperature controls. There are options for padded benches with or without backrests and cut-out benches to improve stability while in the shower. If you're planning to travel, there are also some great options for travel shower benches on the market. Do some research and read the reviews of available shower-assistance products to help make your bathing experience easy and comfortable wherever you go.

 

Use a Handheld Attachment

An easy modification to help you shower with a spinal cord injury is adding a removeable handheld showerhead. While you can still shower with a normal showerhead, using an attachment makes it easier to target hard-to-reach areas. This is especially important if you have limited mobility or dexterity. You can add an attachment to your regular showerhead, giving you the choice to use either when you're bathing.

 

Stay Reachable

Keep your phone in an easily accessible area near the shower or bath. If something happens, you'll need to be able to reach your phone and call for help. You can also use devices like Amazon Echo or Google Home to set up voice control and easily call for help without having to reach and find your phone.

 

Regularly Check the Water Temperature

Individuals living with an SCI tend to have limited sensation across their bodies. This means that while showering, you'll need to continually check the water temperature. It's not uncommon for people with spinal cord injuries to get serious burns due to scalding hot water during showers or baths. You can avoid this by checking the temperature of the water with your hands or somewhere where you have more sensation. To avoid accidental overheating of the water, turn your water heater down so that it's closer to 120 degrees. This still provides you with warm water for showers, but it won't lead to overly serious burns that require professional medical attention.

 

Reduce the Risk of Slips and Falls

Showering with limited mobility presents unique challenges but slips and falls still need to be avoided. This is especially important when transferring from your wheelchair to your shower bench or chair, as the wheels are more prone to slipping when they're wet. Make sure that someone else is home when you first begin to shower alone to help you if you need it. To reduce your risk of slips and falls, utilize the right assistive devices such as strategically placed railing and handles, secured shower benches (as opposed to movable ones), and plenty of non-slip matting on the shower floor. This helps improve your grip and increase stability while you're bathing.

 

Be Patient
Finally, above all else, be patient with yourself. Navigating life with a spinal cord injury is difficult and takes a lot of getting used to. You will not perfect bathing on your own right away, but with practice and time, you'll eventually get the hang of it. Try not to get discouraged and make sure that you have someone you're comfortable with around to help you as needed. There is absolutely no shame in asking for help, so do whatever you need to do to stay safe.
If you or a loved one has suffered a spinal cord injury, try to be positive and optimistic. Regardless of the state of your mobility, your mental health is important for living your best life. Consider joining a support group to connect with like-minded individuals who can help you overcome new challenges or mental roadblocks that you're facing. There are plenty of options for both in-person and online support groups for individuals suffering from spinal cord injuries.
Showering with Reduced or Limited Hand Function
Spinal cord injuries that affect the cervical nerves (C1 to T1) can reduce dexterity and mobility in your hands. If you have reduced hand function with an injury level between C7 and T1, it is still possible to bathe yourself as long as you incorporate special devices. Talk to your doctor about options to improve independence in the shower. If your spinal cord level of injury is between C1 and C6, it's likely that you have very little to no hand function. While you may be able to wash certain parts of your body, you'll likely need additional assistance for complete bathing.
To support your journey to independence with a spinal cord injury, talk to your doctor about using self-catheterization to empty your bladder. Intermittent self-catheterization is a great way to take control of your urologic health and can be performed by individuals with limited hand dexterity. To help those who have been afflicted by a spinal cord injury, Byram Healthcare offers a wide range of urology supplies such as catheters and incontinence care. Browse our products today and enjoy discreet delivery directly to your doorstep.