March 08,2022 |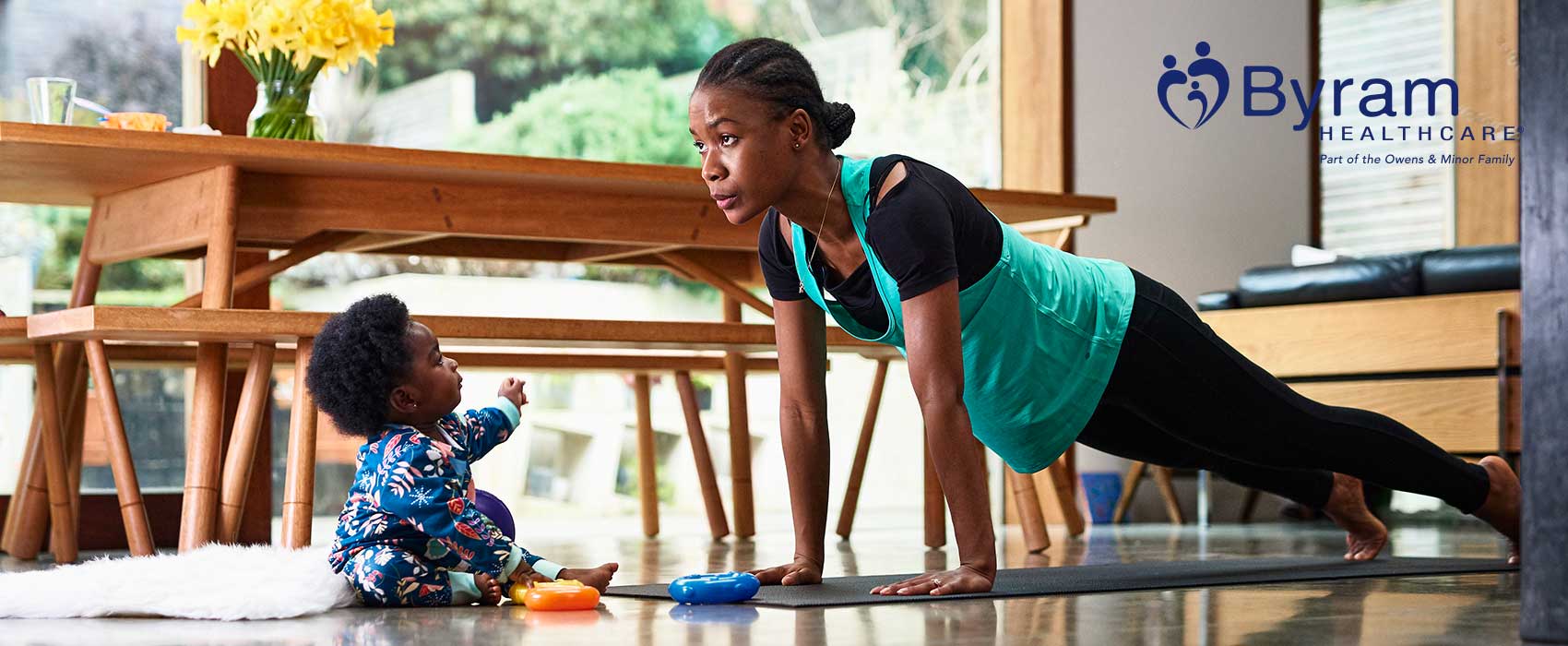 Your organs are supported by a variety of bones, muscles, and connective tissues. Some of the most important muscles and tissues that work to support the weight of your organs are the pelvic floor muscles. Pelvic floor muscles create a hammock-like supportive band that stretches from one side of the pubic bone to the other. They also attach from back to front—the coccyx to the ischial tuberosity. In women, the pelvic floor muscles help to support the uterus, bowels, and bladder. Strong pelvic floor muscles contribute to good pelvic health, increased sexual sensation, and better function. However, when pelvic floor muscles are weakened, pelvic health can decline, and problems can persist. To help, here's everything you should know about women and pelvic health.
Information on Pelvic Floor Muscles
Pelvic floor problems are not uncommon and can occur due to several reasons. There can be issues if your pelvic floor muscles are stretched, such as after pregnancy and childbirth. There can also be problems if your pelvic floor muscles are too tight. Most often, pelvic floor problems are associated with weakened muscles, which is why practicing kegels is so beneficial to your health.
Some other factors that contribute to weak pelvic floor muscles include:
Not staying active
Pregnancy
Childbirth
Constipation
Persistent heavy lifting
Being overweight
High impact exercise
Chronic coughing
When pelvic floor muscles become too tight, it's called hypertonic pelvic floor. This is caused by the inability to relax the pelvic floor and can lead to painful sex, urgency, pelvic pain, constipation, and more. There are several different causes, each of which require a unique treatment plan. The proper diagnosis and understanding of hypertonic pelvic floor will allow for targeted physiotherapy treatment to help relax the muscles and eliminate associated problems.
Why is Pelvic Health Important for Women?
Maintaining good pelvic health is essential for women of all ages but gets increasingly more important as you age. In addition to seeing your OB/GYN, try finding a urologist who specializes in pelvic disorders to help take a proactive approach to your health. To better understand the importance of pelvic floor health in women, consider the following. 
Pelvic Health Benefits the Urinary Tract System
Strong pelvic health creates a more optimized urinary tract system, which ensures that everything is functioning as it should. The urinary tract includes your bladder, kidneys, ureters, and urethra.
Urinary Incontinence
Women who have weakened pelvic floor muscles often experience varying degrees of urinary incontinence. Incontinence is when you experience leakage due to the inability to hold urine in your bladder. While there are ways to treat incontinence in women, one of the best things to do is focus on pelvic health and strengthening muscles.
Urinary Retention
Urinary retention is the opposite of incontinence. Women suffering from retention have difficulty emptying their bladder completely, which can create ongoing feelings of urgency and discomfort. This can be caused by weakened pelvic floor muscles or other underlying conditions. Treatment for acute and chronic urinary retention vary.
Pelvic Health Reduces Problems with Bowels
Strong pelvic health translates to a healthy digestive system, especially in terms of your bowels. The better your pelvic health, the less likely you are to experience problems with your bowels.
Fecal Incontinence
Like urinary incontinence, fecal incontinence is the inability to hold fecal matter in the rectum. This can be significantly more disruptive to a woman's life, as the fecal matter has a much stronger odor than urine. To make sure that you don't suffer from fecal incontinence, or to help treat mild cases, prioritize pelvic floor health.
Constipation
Constipation can weaken pelvic floor muscles over time, as the strain or stress of trying to pass a bowel movement can be damaging. This is more common in older adults and women, especially following childbirth. If you're suffering from constipation, talk to your doctor about treatment options.
Diverticulitis
Poor pelvic health can also manifest in the form of diverticulitis. This occurs when small pouches develop within the colon and push through the colon's walls. It can create substantial amounts of pain and lead to problems with bowel movements.
Pelvic Health Maintains Sexual Organs and Functionality
Pelvic health also includes maintaining the functionality of the sexual organs involved in the female reproductive system. Some things that can happen because of poor pelvic health—or genetic predispositions—include uterine fibroids, polycystic ovary syndrome (PCOS), ovarian cysts, or dyspareunia. If you're experiencing any problems related to sexual intercourse, your menstrual cycle, or sexual organs in general, schedule an appointment with your OB/GYN.
Pelvic Health Decreases Risk of Pelvic Organ Prolapse 
Pelvic organ prolapse is when one or more of the pelvic organs drop through the pelvic floor muscles into the vagina. This can happen to the bladder, uterus, or even rectum and is often a very serious condition. If you experience pelvic organ prolapse, you'll likely either see or feel a bulge emerging from the vagina that's associated with discomfort, pressure, bladder leakage, and difficulty during bowel movements. If you think you may be experiencing pelvic organ prolapse, contact your doctor immediately.
To prevent pelvic organ prolapse from occurring, it's essential that you strengthen your pelvic floor muscles and take the necessary preventative measures.
As you get older, your risk for pelvic floor problems increases. The same is said for mothers who have recently given birth. Other risk factors for increased problems include hormonal changes associated with menopause and family history.
How to Improve Pelvic Health in Women
There are certain factors that cause predispositions to pelvic floor problems, but with a proactive and preventative approach, you can reduce your chances for serious issues like prolapse and incontinence.
Strengthen Pelvic Floor Muscles
One of the best ways to improve your pelvic health is to regularly perform pelvic floor exercises. The most popular of these exercises is kegels, but there are plenty of other ways to strengthen those muscles. Try combining kegels with Pilates, yoga, core strengthening activities, and a variety of resistance training. If you're having trouble targeting your pelvic floor muscles during kegels, try working with a professional to get biofeedback during your exercises.
Avoid Strenuous Lifting
If you're going to lift something heavy, make sure that you use proper lifting techniques. Squat down, keeping your back and pelvis straight, grab hold of the item, and lift back up in a straight line. This helps you avoid putting excess strain on your pelvic floor. If you're suffering from pelvic floor problems, avoid strenuous lifting altogether to reduce the risk of prolapse.
Avoid Holding Urine
Timed voiding can be beneficial to treat certain urologic conditions, but don't hold it for too long. Doing so can put excess strain on your bladder that can lead to further problems.
Stay Hydrated
Water is essential for optimized urologic health. Make sure that you're staying hydrated throughout the day to avoid increasing the concentration of your urine, which can irritate your bladder and cause further problems.
Avoid Straining While on the Toilet
If you need to use the bathroom, try to avoid excessive straining. Chronic strain can diminish your pelvic floor health and lead to problems with incontinence and prolapse. If you're suffering from constipation, talk to your doctor about changing your diet and make sure you're getting enough daily fiber.
Maintain a Healthy Weight
Obesity can put a lot of strain on your body, including your pelvic floor. Visceral fat increases the weight that your pelvic floor needs to support, which can contribute to bladder problems, risk of prolapse, and incontinence.
Limit Bladder Irritants
To minimize urologic side effects, try limiting bladder irritants. Avoid drinking too much coffee or caffeine, limit chocolate and spicy foods, and try to avoid citrus if you've found that it's bothersome. Everyone is different, so be cognizant about what works for you and make the appropriate changes.
When to Seek Treatment for Pelvic Health Problems
If you're experiencing any range of pelvic health problems, talk to your doctor as soon as possible. The urologic conditions associated with pelvic health are often extremely disruptive to everyday life and can cause emotional distress in several situations. The earlier you address the problems, the easier they'll be to treat. Urologists specialize in a variety of pelvic floor disorders and can help you better understand what's causing them through a range of diagnostic tests.
If you're experiencing urologic problems associated with weakened pelvic floor muscles, Byram Healthcare can discreetly deliver a range of products to your door to help you manage.