Upgrade to Dexcom G7 CGM System1 on your Next Eligible Order Date
60% smaller than Dexcom G6 plus easy to apply, set-up & use
Real-time glucose monitoring with alerts when out of range
Compatibility with readers, smart phones & other devices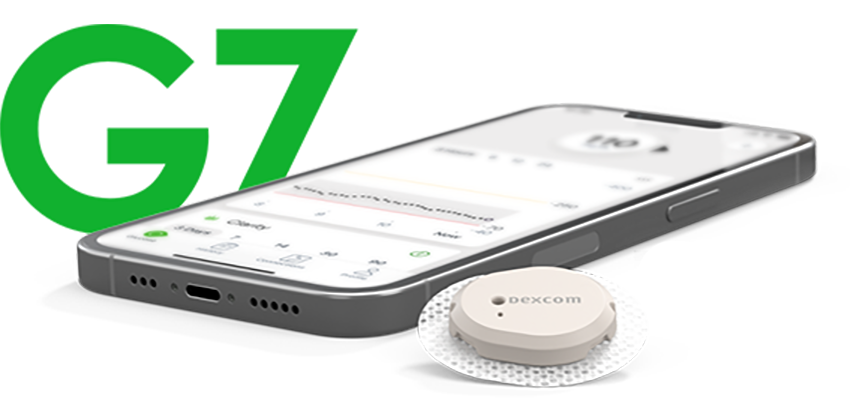 1 Smart device sold separately. Dexcom has announced the G7 will be available to patients February 17. Actual delivery dates may vary. To confirm your coverage and costs, speak with Byram Healthcare and your insurance provider. Deductibles, co-pays, and other conditions apply.
Powerful. Simple. Dexcom G7 Features:
The most accurate CGM1
Industry-leading accuracy to help you manage your diabetes with confidence.
No fingersticks,† scanning, or calibrations
Get continuous readings to your smart device* without the hassle.
Fastest warmup time‡
Warms up in just 30 minutes, twice as fast as any other CGM system on the market.
Easy to apply, easy to set-up, easy to use1
Simple and painless application plus a redesigned, intuitive app make it easy to get started. 1
12-hour grace period
Swap sensors at your convenience.
More Sustainable
Smaller all-in-one applicator comes in a box with 58% less packaging volume2.
Official Big Game Day 2023 Commercial
*For a list of compatible devices, visit dexcom.com/compatibility. †Fingersticks required for diabetes treatment decisions if symptoms or expectations do not match readings. ‡Dexcom G7 can complete warmup within 30 minutes, whereas other CGM brands require up to an hour or longer. 1 Dexcom, data on file, 2022. 2 Dexcom, data on file (MT24451, MT26413, MT00061).

BRIEF SAFETY STATEMENT: Failure to use the Dexcom G7 Continuous Glucose Monitoring System (G7) and its components according to the instructions for use provided with your device and available at https://www.dexcom.com/safety-information and to properly consider all indications, contraindications, warnings, precautions, and cautions in those instructions for use may result in you missing a severe hypoglycemia (low blood glucose) or hyperglycemia (high blood glucose) occurrence and/or making a treatment decision that may result in injury. If your glucose alerts and readings from the G7 do not match symptoms, use a blood glucose meter to make diabetes treatment decisions. Seek medical advice and attention when appropriate, including for any medical emergency.

Dexcom is a registered trademark of Dexcom, Inc. in the United States and/or other countries.